Autorid
Screencap by Hagnat, LK forum
Photo Arne Ader
Translation Liis
Estonian text published 23.10.2017
Image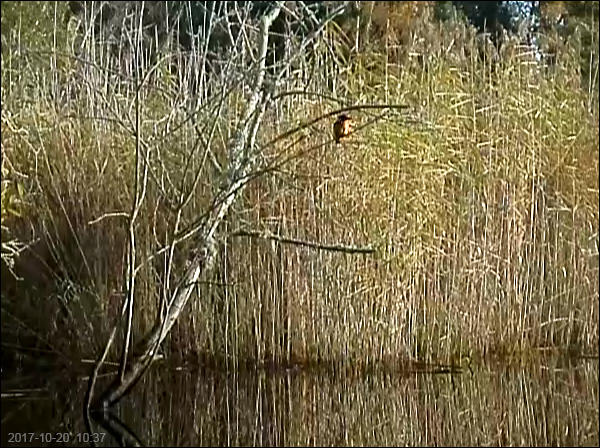 Body
Kingfisher in typical outlook spot
Kingfisher        Jäälind            Alcedo atthis
A single visit by a kingfisher might not cause overmuch excitement but the beautiful and colourful bird has been spotted for several days in camera view looking for prey.
The high level of running waters and the resulting muddying of the waters has forced kingfishers to look for better feeding areas. They feed mainly on small fish.
So we have to do with a little bird of prey. There are no particular fish species that it prefers especially. However, the small pike fry from this spring have already grown too large for a kingfisher.
Kingfishers catch their fish by diving from the observation spot. Just before reaching the water surface the bird covers its eyes with an eye covering that other birds of prey have too. The covering is located between the eye and the eyelid of the bird. The fish is caught "from memory" of its position, and this fishing mode is not always very efficient.
The birds have a similar colourful plumage all year round and regardless of gender. In spring it is possible to distinguish between males and females but no longer now. Who has once seen a kingfisher recognizes it already from the silhouette – a long beak, large head, sturdy body and short tail. The length altogether is more than 15 centimetres, of which the beak makes up 4 centimetres; the wingspan is a quarter of a metre and the weight up to forty grams. The plumage colour can seem amazingly different depending on the light.
How to distinguish the juveniles of this year from the mature birds? Their beak is shorter than that of the adults, the plumage is not as gleaming and seems more green-coloured to an observer. The legs of the adults are noticeably coral red, those of the juveniles simply dark.
Nesting kingfishers in Estonia may be up to three hundred pairs but in autumn the pair does not tolerate its chicks from the summer in the home territory any longer.  The duration of the migration and the passing of migrants towards south depends on the weather as well as feeding conditions but probably lasts until the beginning of winter.
Only maybe 30 – 50 individuals stay to winter here, at spring-fed river stretches. In a winter landscape kingfishers are truly beautiful to watch.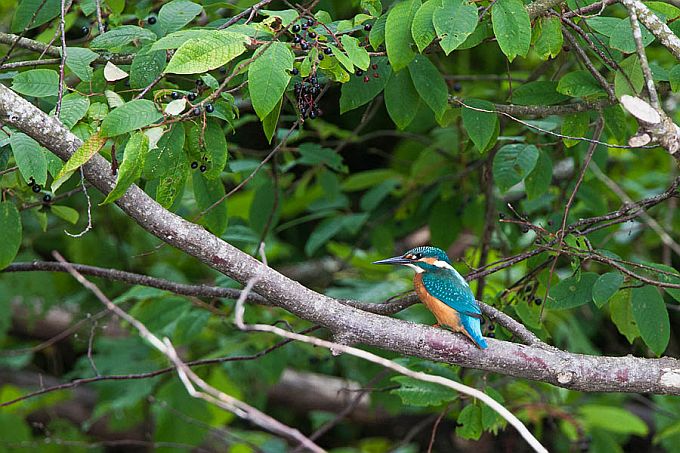 Kingfisher on bird cherry
Observations of kingfishers: LINK