Body
Pine marten     Metsnugis       Martes martes
Pine martens inhabit quite different types of woods with dense undergrowth, also areas with shrubs (such as hazels or junipers).
Near human settlements they may explore the lofts of houses and outbuildings or stay there for the day.
In forests they use tree hollows or the twig nests of squirrels or larger birds as temporary resting places. When waters start to freeze the pine martens that otherwise keep away from water bodies can be encountered in reed banks where they look for extra food.
The size of the slender pine martens is comparable to a cat – weight less than a couple of kilos. It is a little larger than the other mustelids and has longer legs. The fur is dense, fluffy and generally dark brown. A slim and powerful exterior, the fluffy tail is about twenty centimetres. The ears are quite large and pointed. On the neck and breast a large yellowish or orange patch attracts attention.
On snow the track book will soon be readable. In snow pine martens generally leave blurred oval-shaped twin tracks, because the soles of the little predator are hairy in winter and it steps with the hind legs into the tracks of the forelegs.
It hunts and searches for food mainly on the ground. Its tracks often break off at a tree; a pine marten's moves from tree to tree resemble a squirrel's.
The snowless nights in autumn-winter are long and dark. Pine martens start moving already at dusk. It is not unusual that they move up to ten kilometres in good weather. They lead a solitary life and shelter in temporary locations when the territory is large.
The pine marten is a predator and in a wintery forest it can follow and kill a mountain hare (Lepus timidus) larger than itself. It harasses squirrels in their winter nests (one reason why squirrel nests have two ways out), on the ground they hunt galliform birds and rodents. Carrion found in the forest bring a substantial food supplement.
From monitoring data it can be estimated that there are more than six thousand pine martens in Estonian forests.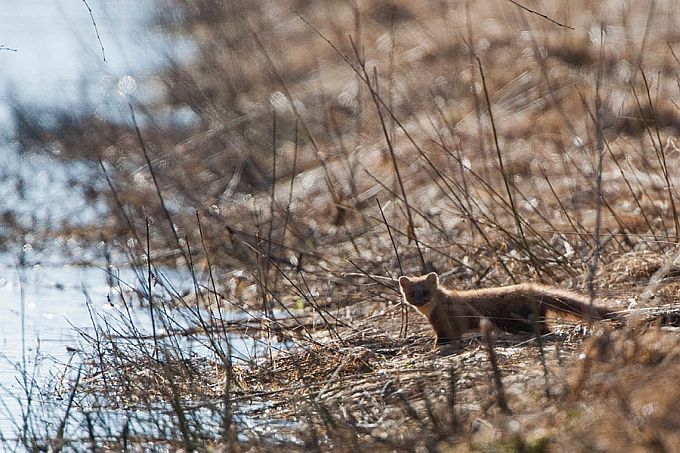 Pine marten