Body
Raven        Ronk or kaaren       Corvus corax
In the old days ravens were held to be birds of large forests. We have to do with smart and  extremely intelligent birds very willing to learn and by now managing nearly everywhere.
75 years ago about a hundred breeding raven pairs were estimated to exist in Estonia, and they were even placed under protection. About 50 years ago breedingpairs had a maximum, or six thousand pairs. By today the number has decreased to three or four thousand  breeding pairs.
The adults that have nested here are mostly stationary birds; young birds of course stray around and start breeding at two years of age.
With the migrants from north and east the winter raven population may become several times larger in some years; in that period they move around in groups, but the faithful adult ravens still keep together in pairs.
All ravens have a similar plumage in winter. Only old males look just a little more bulky than the others: their weight may reach up to a kilo and a half, the females and young birds weigh a little more than a kilo, with 60 centimetres of body length.
In sunshine the black plumage of ravens shimmers in metallic blue hues; note also their characteristic wedge-shaped tail tip (see Arne's lower photo).
The observant and social birds don't seem to have any particular food problems in winter. In the forests they find cadavers since the hunting period still lasts. They hunt for small rodents  and in case of a thaw they find insects or earthworms that have hidden near the soil surface.
Observations of ravens during the recent week : LINK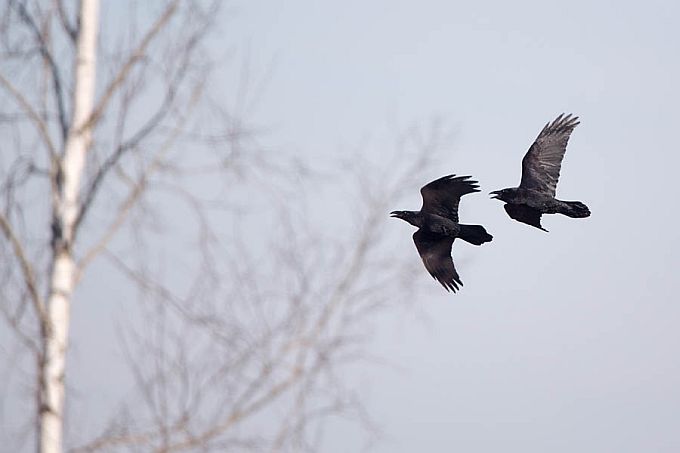 Ravens