Autorid
Video recorded by Urmas Lett
Photos Arne Ader
Translation Liis
 Estonian text posted 05.02.2018
Body
Roedeer             Metskits or  kaber         Capreolus capreolus
A long peaceful record of the doings of the roe deer flock near the salt lick and in the forage field that sadly was almost destroyed by the very wet weather last year. As the ground freezes we again see animals moving. The snow cover hid the tracks and smells of people who had  been there earlier and the web  camera allows us to see the activities of the animals without disturbing them.
The whole week promises winter weather with nice degrees of frost and so we have cause to watch the doings of the roe deer herd. The cautious roe deer at first move along the forest verge, carefully checking the open area before heading into the field. In the morning twilight  the deer herd begins to move but how did the buck with five deer spend the night?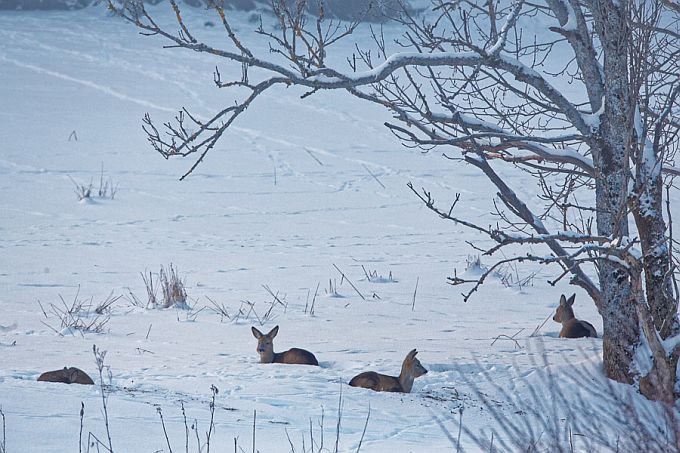 Roe deer
They probably spent the night nearby, at the border between forest and open field, because a roe deer herd moves deeper into the forest only to find shelter  against heavy snowfall or snowdrift. The sleeping place for the night is cleared of snow; the places of the herd members are a couple of meters apart; so it is easier for the herd to escape if necessary.
The lies of roe deer for sleep or daytime resting are surprisingly small but so the risk of becoming cold is smaller. The animals lie down on their folded legs. The back is in the wind direction because so they can smell a danger approaching from the back earlier. Movements in the front the attentive animals notice easily and in the video too we see how they listen to everything that is happening in the surroundings – the ears move in different directions independent of each other like modern devices for location.
In the video an attentive viewer also notices the differences in shape of the almost white tail "mirror" of females and males.
Since we see the animals quite close up we should also add their main measures: the body length of an adult roe deer is more than a metre, the shoulder height three-quarters of a metre and the weight more than a quarter of hundred kilos. Of course there are larger individuals, and those born last year still look slightly smaller  in the video record too.
We will discuss their winter menu and  the bucks and their antlers on a later occasion.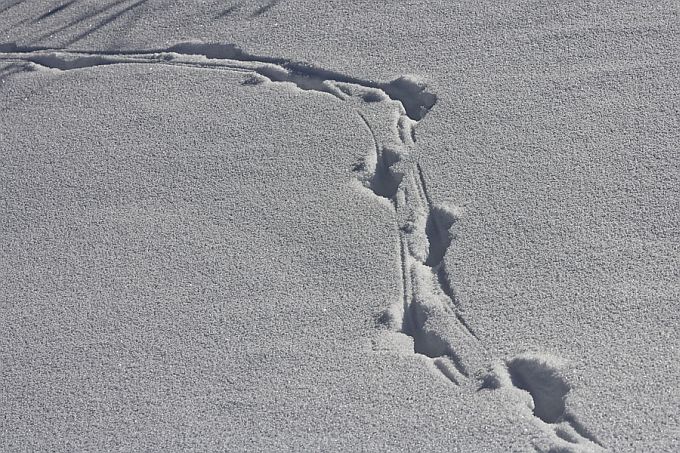 .
Roe deer trail
So a roe deer moves in a quite calm mood, leaving traces of the pastern dragged on the snow.