Autorid
Screencap from webcam  Sova, LK forum
Translation Liis
Estonian text posted 23.04.2018
Image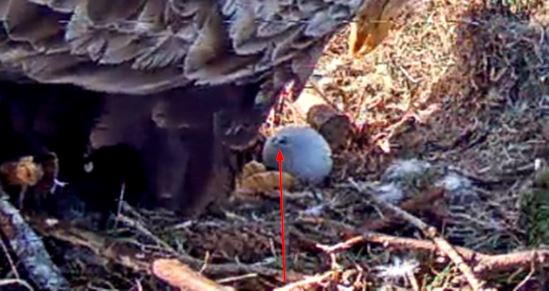 Body
The eagle chick has picked holes in the shell with its egg tooth and squeaks...
White-tailed eagle       Merikotkas        Haliaeëtus albicilla
Let us look back in time and make a brief recapitulation of events in female Suvi and male Sulev's nest up to now.
Suvi laid the first egg in the evening of March 18, the second egg we could see in the nest in the evening of March 21. On April 5 one of the eggs in the nest was broken and on the same day the adults removed the residues from the nest. Why this happened will stay unknown to us. The possible reasons are many, regrettably all will remain assumptions.
The long incubation period is ending. Let us hope that the offspring will be healthy and strong.
An interesting period in nest life is only beginning.