Autorid
Info from Aivar Leito
Translation Liis
Estonian text posted  30.04.2018
Image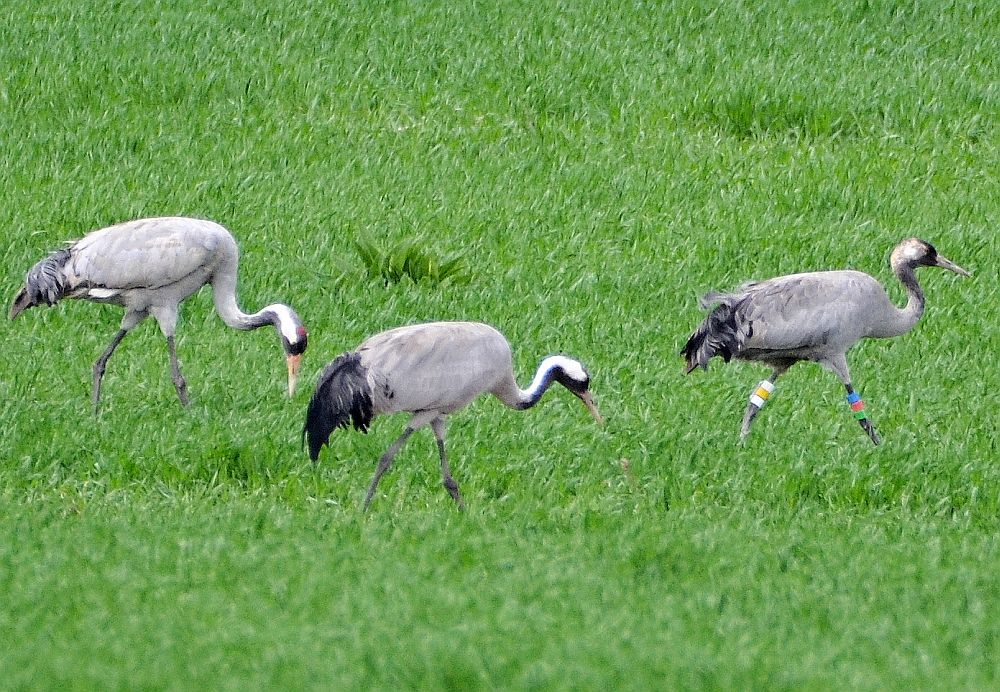 Body
Crane Loode with transmitter in western Czech republic. Photo local bird watcher 24.04.2018. 
Dear Crane Friends!
There are again good news from the travels of the cranes with transmitters. The long awaited "world traveller" Ahja 5 at long last reached home . After the last adventure in Karelia and Russia Ahja crossed the Estonian-Russian border at the village of Lübnitsa at noon on April 27 for the second time and after a familiarizing tour round Tartu city reached his birthplace at Ahja
After that he stayed at home  basically being busy in the northern part of Ahja around Mõtsküla, Rookse and Vanamõisa. Since the spring migration season is coming to an end I think that he will not venture anywhere far out but will stay near his home area or at least in Estonia for the whole summer.
Others of our cranes had an active migration day on April 29. Hauka 3 made a long jump from northern Latvia across the Gulf of Riga and the Väinameri and reached the Karjaküla new fields near Keila where he stayed for the night.
My "home crane" Aivar from Soitsjärve also  made a migration jump on April 29 and reached the Engure lake in northern Latvia in the evening. His brother Uko also went further and following Aivar in the same evening reached the eastern part of the Kaliningrad oblast near the Lithuanian border. They move along the same paths but already since winter they keep apart. We will see if even in the homeland brother no longer recognizes brother?
Crane Ivar who had reached home already earlier stays in his home area of Vooremaa and the Sõrve crane in Saaremaa mainly on the western shore of the Sõrve peninsula.
Muhu crane Liiva is also still in the Kaliningrad Oblast's eastern part.
Furthest away from home is crane  Loode who after successfully crossing the Alps has reached western Czech Republic and gathers new fat reserves for the last migration jump home. Very probably he will do so in the first days of May.
See also the bird migration map : http://birdmap.5dvision.ee/