Autorid
Text Aivar Leito
Photos Ainar Unus
Translation Liis
Estonian text published 11.10.2017
Image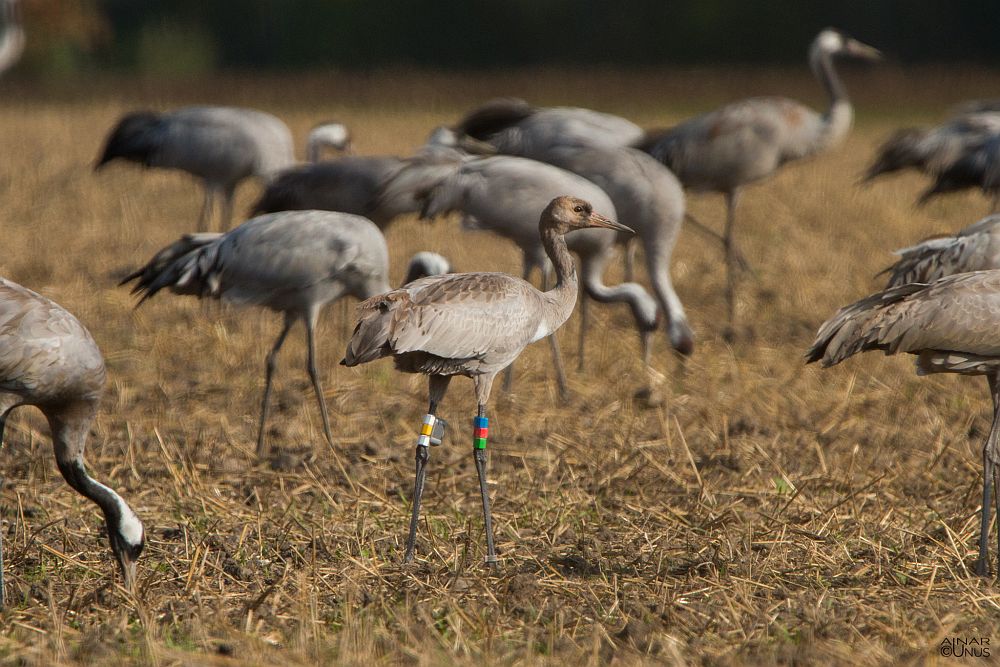 Body
Juvenile crane from this year  with transmitter 
On October 6 2017, from the morning until afternoon, an active crane migration towards south took place in western Estonia. Our young sat cranes from this summer also started on their way with this migration wave: Loode" from the Mullutu crane community in eastern Saaremaa, crane "Liiva" from the Muraja community in eastern Saaremaa and crane "Paslepa" from Noarootsi. It is interesting that they all flew southwards straight across the sea.
Crane "Loode" started at noon on October 6 from the Pähkla fields in a south-southwesterly direction across the Nasva village and then along the western part of Suur katel, the sea at the east coast of the Sõrve peninsula and southwards across the Soela (Irbe) strait to the Kolka coast in Latvia, continuing the flight over the mainland along the shore towards southwest until Ventspils. The altitude of flight above the sea was a steady 200-300 m. The flying distance over the sea was altogether nearly 65 km.
Crane "Liiva" started on October 6 in the morning from Muraja in eastern Saaremaa and then flew practically in a straight line towards south to Ruhnu and from there turning slightly towards south-southeast straight across the Gulf of Riga, landing about ten kilometres to the west of Riga and continuing from there non-stop above land straight southwards until Šiaulia in Lithuania. The altitude of flight at sea and also above Ruhnu island which he passed without stopping was mainly 100-200 m, minimum 40 m. The flight distance across the sea was 170 km.
Crane "Paslepa" started early in the morning on October 6 from Noarootsi and then flew without stopping in an almost straight line across Haapsalu, Saastna and Virtsu and then across the Uuluti isle in a southerly direction towards the sea. After that the crane flew in a south-southeasterly direction across the Gulf of Riga landing at the western edge of the city of Riga, then continuing the flight without stopping until Krekenava in central Lithuania where it stayed. The altitude of flight over the sea was 50-500 m, mostly 150-300 m. The flight distance over the sea from Virtsu to Riga was 180 km.
These exact data on the migration flight of cranes in Estonia are unique because previous transmitters and radar observations have not so far allowed it. A more detailed analysis of the migration flight of cranes over the sea still remains.
At Kihnu the migration of cranes at sea has been watched earlier by radar but the working range of the radar used was some tens of kilometres at most and allowed the flight of cranes to be observed only for a limited distance
.