Autorid
Webscrap IceAge, LK forum
Translation Liis
Estonian text posted 28.04. 2018
Image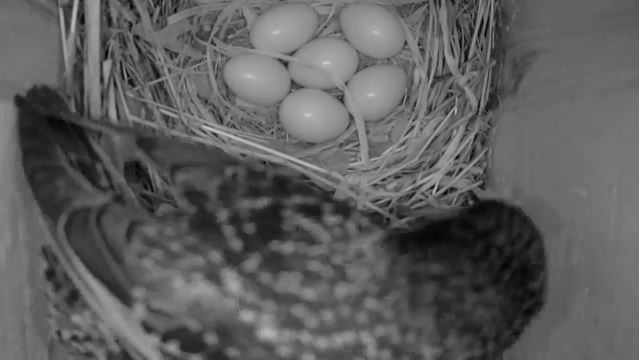 Body
By ten thirty there were six eggs in the nest
Starling             Kuldnokk         Sturnus vulgaris
When precisely do birds start the incubation? It is difficult to decide even helped by the web camera  - is it simply a rest in the nest or is the incubation in progress? The starling pairs that  start nesting earlier have often a larger clutch and in  case of bad weather they may start the incubation even before laying the last egg. At the hatching of the chicks we can calculate backwards – when did the incubation really start?.
Both adults  of starlings incubate. Mainly the female does so; she is certainly in the nest during night too. The male came today to check on the situation. The male replaces the female in daytime but only for short whiles.
Where then does the, male spend the night? Together with the other males in the neighbourhood they gather in flocks in the evening to spend the night together in a denser shrubbery or in the reeds if this might be near the nests. In early morning they are back at the nest boxes or nesting area.
Tomorrow we will discuss the theme of the incubation of passerines.