Sisu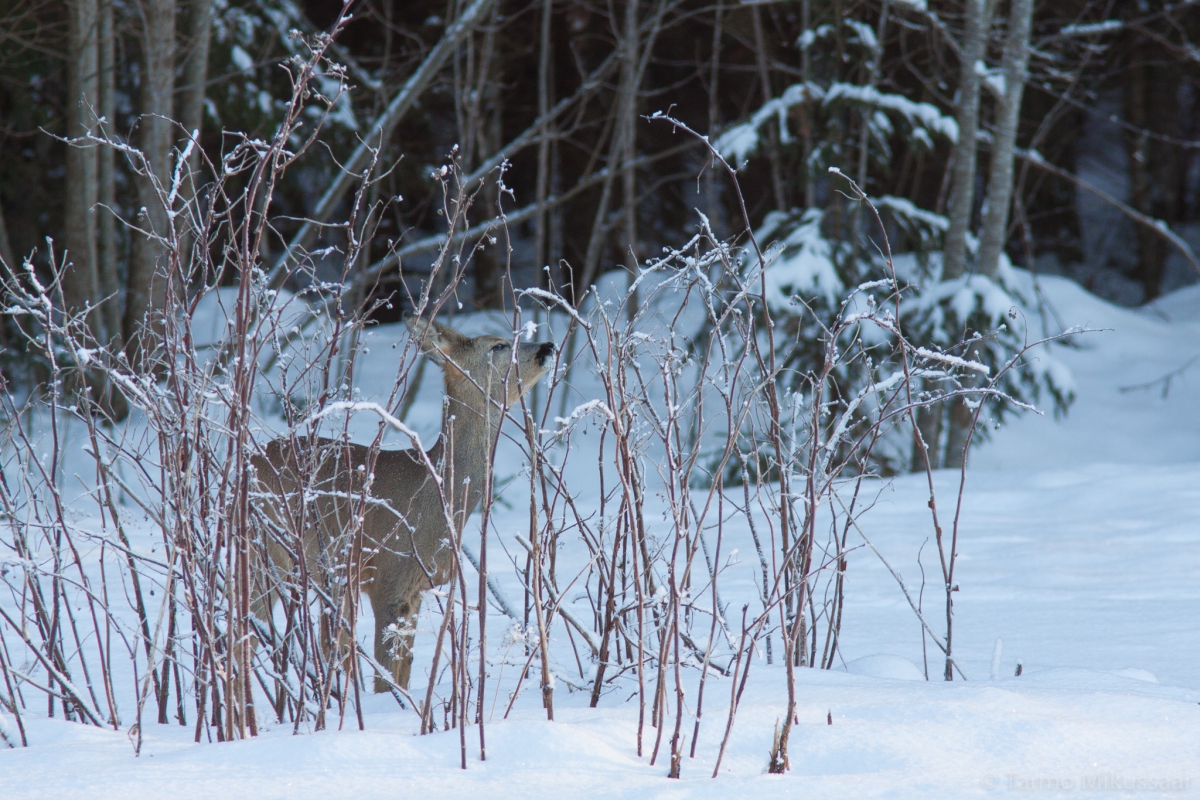 This winter brings only pleasure for roe deer. Thick, layered snow does not prevent movements nor make it difficult to get at food.  Digging a sleeping place needs no hard work either. Unlike elks, roe deer must not sleep on snow, only on the ground. Otherwise health problems quickly arrive. Pneumonia or diarrhoea would very probably mean that the next spring will remain unseen.
Presently the diet of a roe deer depends on what kind of landscape they inhabit. In forest regions, areas with bilberry shrubs are preferred. Other plants in the shrub layer are also appreciated. They feed on shoots less than a year old. Bilberry shrubs are still favourites. When bilberry shrubs are shorn halfway down or lower, it indicates a shortage of food for an excessively large number of animals.
In cultivated landscapes they keep close to fields with sprouting winter grains and winter rape. Many gardeners are annoyed by roe deer grazing on strawberry leaves or other evergreen plants. Thanks to the extremely rich apple harvest last autumn they are still crushing rotten apples under the apple trees in search of the seeds They also eat buds and shoots within grazing reach.
Areas where noises of forestry work are heard are checked. Buds on aspen and willow brushwood are polished off to the last. Lacking those, birch will also do. Oak belongs to the delicacies as well. Tip shoots of spruce and pine are eaten in all kinds of winters. Those planted by humans get more attention. Naturally grown conifers are generally left alone. Evidently what is grown in commercial nurseries contains more minerals and is tastier. How much damage that will be done on forest plantations depends primarily on their location and the population density of the roe deer.
The menu in the current winter is plentiful for roe deer. Other living conditions are good too. More than half the winter has passed. Nothing very bad can happen any longer. A large and vital offspring may be expected for the roe deer. The roe bucks will have splendid antlers next summer. The antlers have already started growing.
Looking forward to a beautiful spring!
Vahur Sepp