Body
Viviparous eelpout; Blenny      Emakala or kiviluts            Zoarces viviparus
The viviparous eelpout is the only fish in Estonian waters to give birth to live fry, or viviparous.
We are used to fish spawning. But the reproduction of eelpouts is quite similar to that of mammals. The males fertilized the females in August-September, and at the end of November the females start the breeding which lasts into the new year. The female gives birth to only some tens of fish fry that are very similar to their parents but only up to four centimetres long. They start an independent life immediately.
It is not known at what age females become sexually mature; eelpouts have not been particularly thoroughly researched.
As for body shape eelpouts remind of a burbot with a body flattening towards the tail, a dorsal fin reaching from the head almost to the tip of the tail and an anal fin. They have prominent lips, bulging cheeks and large eyes.
The eelpout has no scales and a slimy skin. It is smooth, mainly coloured in brown and yellow hues although the colouring is actually very variable and depends on the bottom.
Eelpouts move in water layers near the bottom and even quite deep down but come temporarily into shallow shore waters for foraging. In turn they are hunted by larger predator fish and among waterfowl for instance by cormorants that can dive to twenty metres and by seagulls in shore waters.
Having a slow growth rate their length exceeds 30 centimetres only at ten years of age; the weight then only reaches 150 grams.
The eelpout is the national fish of Latvians; at large national festivities dishes with eelpout must certainly be served. I can confirm that the eelpout with its white flesh is very delicious as smoked or served in aspic. When eating you will see that the backbone of the eelpout is green as that of the garfish; the colour is caused by vivianite, an iron and phosphorus compound in the bones.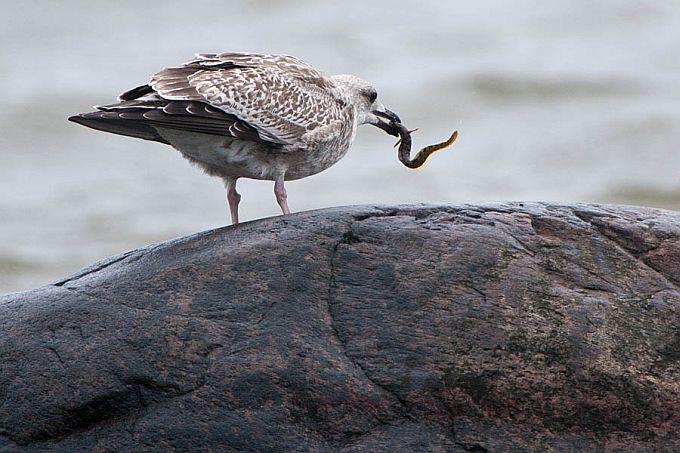 Herring gull with eelpout