Autorid
Video recorded by  Ahto Täpsi
 Snow chart from Estonian Weather Services
Translation Liis
Estonian text posted 24.12.2017
It is quiet in the forest in a storm  and the jay notices the gift brought to him
Body
Jay        Pasknäär       Garrulus glandarius
The beginning of the storm yesterday brought a snow blizzard to half Estonia, at sea a north-north-westerly tempest roared, but the north-westerly wind is also the "broom of heaven". Who brought home a spruce from the forest today can assure that they spent a nice hour in the forest, maybe even some forest inhabitant was visible. The hunters' forest peace for the holiday period started; they bring food for the animals too.
From autumn the jays at the roadsides were to be seen again (during the breeding period they were not visible at all). Jays collect as is well known winter stores for themselves, to a great deal acorns, but this year the acorn harvest failed. But the clever corvids will surely find some substitute …
The jays, with the most eye-catching plumage of the corvids, are the size of a jackdaw: length up to 35 centimetres, weight more than 150 grams and the wing span half a metre.
The plumage of the adults is pretty, both similarly pinkish grey, on the wings the "national colours". The rear part of the wings and the tail feathers are black. The flight image is somehow flapping, the white rump area catches attention. An agitated bird raises the feathers on the head like a small crest
The winter numbers are estimated at about a hundred thousand individuals but a more precise answer will come from the winter bird count.
Observations of jays in the week before the Christmas holidays : LINK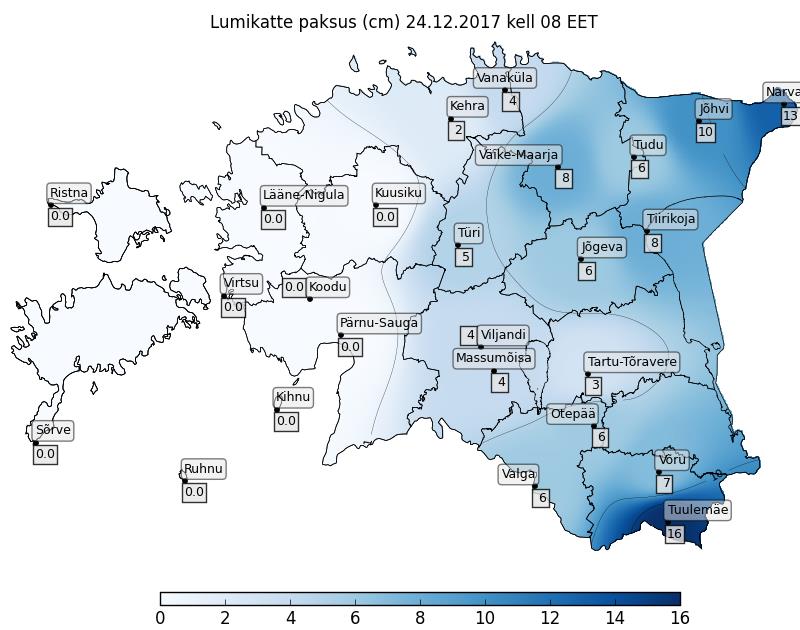 Thickness of snow cover on 24.12.2017 at 8.00