Autorid
Info from EMÜ 
Translation Liis
Estonian text posted 12.01.2018
Image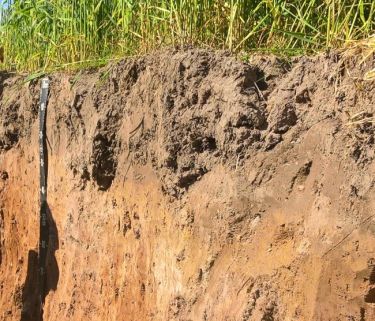 Body
Pseudopodsolic soil profile (photo: EMÜ)
At the soil days arranged by the EstonianUniversity of Life Sciences the soil of 2018 was elected: the  reddish-brown pseudopodsolic soil of mixed forests.
According to  Alar Astover, professor of EMÜ soil sciences,  pseudopodsolic soils are one of the most fertile soils of southern Estonia with mainly mixed spruce forests. Forests with such soil are also valued mushroom forests.
The pseudopodsolic soil is also the best soil for Livonian farmers and universally suited for plant cultivation - on it most cultures with demands on the soil can be grown such as grains, potatoes and rape.
The pseudopodsolic soils have developed on a reddish-brown sandy clay moraine that is poor in carbonates. They are characterized by a thick humus horizon, on a two-layered parent material with a denser layer below and a lighter one on top.
The pseudopodsolic soils comprise about one-tenth of Estonian soils: in agricultural areas they cover more than 20%.