Autorid
Info from Estonian Ornithological Society
Translation Liis
Image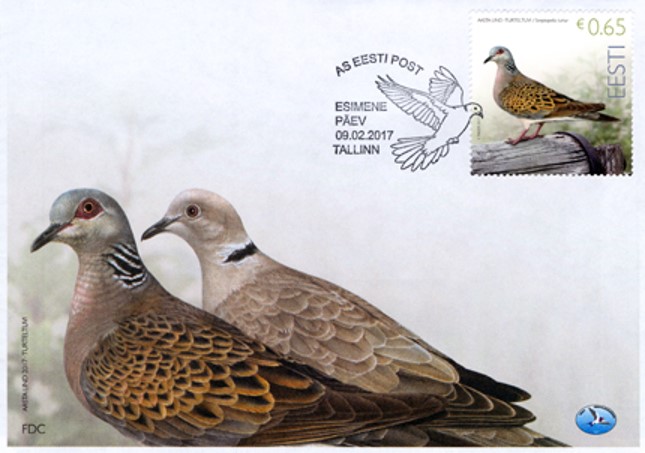 Body
On February 9th Estonian Post in cooperation with the Estonian Ornithological Society published a stamp, an envelope and a postcard with the Bird of the Year. The stamp shows the turtle dove, the postcard the collared turtle dove and the envelope both the birds of the year. Moreover a special first day stamp was created.
The set has been created by the renowned and award-winning stamp artist Vladimir Taiger, who has designed the bird of the year stamps for many years. The first stamp in the Bird of the Year series was published on the initiative of the Estonian Ornithological Society in 2001; on it a lapwing was shown.

The Estonian Ornithological Society elected as Bird of the Year for 2017 the turtle dove and the collared turtle dove. "They are two of  the least investigated bird species in Estonia. Moreover, their numbers have declined fast during the last decades in Estonia as well as elsewhere in Europe. Because of this we want to make these species better known and with the help of nature enthusiasts also to find out more about them", explains Jaanus Elts, the organiser of the dove year.

The stamp set is presented on the home page of Eesti Post: LINK
The home page of the Filateeliafoorum (Philatelist Forum): LINK
The home page of the Bird of the Year: www.eoy.ee/turteltuvi