Autorid
Editor of science news from the Year of the Great Tit Marko Mägi, marko.magi@ut.ee , bird ecology researcher at University of Tartu
Photo Uku Paal
Translation Liis
Body
Cities attract birds and other animals particularly in winter because the heat leaking from buildings warms the environment and helps animals to save energy. In addition many bird species find easy "mouthfuls" on these islands of warmth from food waste left by careless humans but also from food tables meant for birds. The concentration of great tits in cities, already at the autumn migration and particularly abundantly in the winter season, is confirmed by many scientific observations. In northern Finland and Sweden great tits manage to survive the winter only thanks to human activities – the birds gather in communities where they spend the whole long dark winter and only leave from there for the breeding areas when spring arrives.
It is said that in winter birds are quite true to one spot and will not leave the bird feeder area unless necessary. If they leave it is only temporarily, soon finding the way back to the bird feeder (see Are tits true to a bird feeder?) at least if the bird feeders are sparsely distributed in the surroundings  (for instance near solitary farmhouses or small villages) But how is the winter  "traffic" of tits in cities where the feeding opportunities are many times more abundant than in rural areas? Do the tits move within the limits of a certain territory there too or are they constantly on the move looking for new birdfeeders?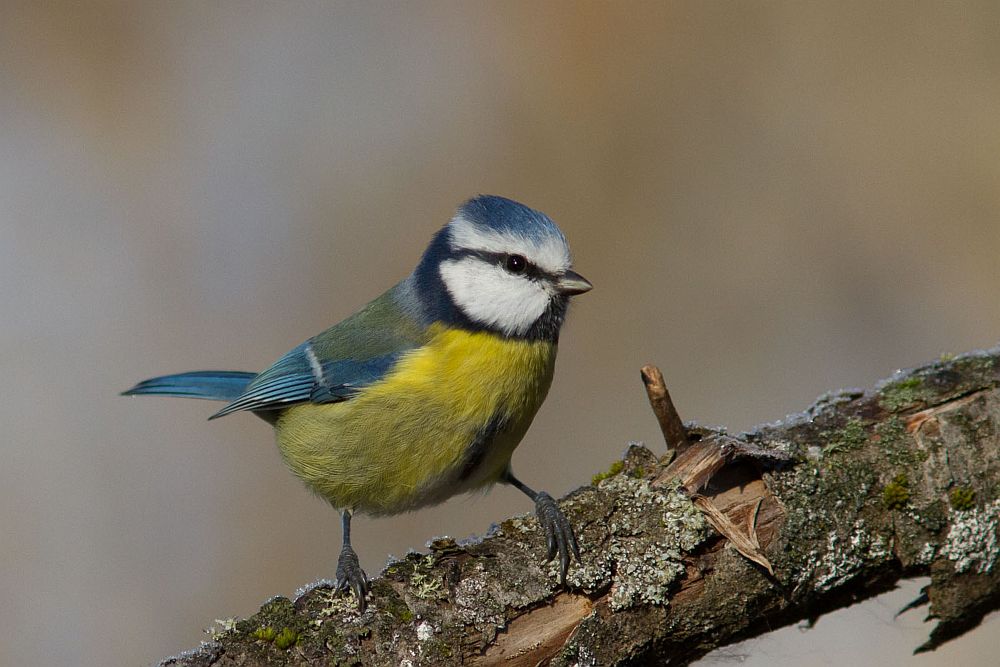 Blue tit
In the city of Sombor in Serbia blue and great tits were captured in autumn and winter during 32 years at bird feeders in different parts of the city. On analysis of the data from the ringing and recapture it turned out that great tits were significantly more mobile during the winter – individuals moved up to 5,2 km away from the original place of capture  (average 1,8 km). The maximum movement of blue tits however was only 2,8 km (average 0,8 km). And while the great tit males were significantly more mobile than the females, no such difference could be noted for blue tits.
It is known that weather influences the movement of birds; when cold arrives migrating birds for instance pass through great distances as fast as possible to reach areas that are more favourable for wintering. In cities however conditions are relatively stable and the weather – the presence of snow cover and air temperature – need not influence the movements of birds in winter strongly.
Although the investigation was carried out in Serbia where days with snow cover are relatively few differences in the movements of great and blue tits emerged. While great tits were more mobile in dry days and more stationary in a smaller area on rainy days, the mobility of blue tits was not influenced by rain. With rainy weather the plumage becomes wet easier which results in a greater heat loss and greater need of energy. The reason may be the greater area fidelity of blue tits compared to great tits. In addition fewer "long distance flights" were also noted for blue tits compared to great tits, which once more proves that the movements of blue tits in communities is only in a limited area.
As a rule we cannot identify individual tits from their exterior. But if your bird feeder is in a city there is a clearly greater probability that you will  see the same blue tit than great tit individual.
Méro TO, Žuljević, A. 2014. Does the Weather Influence the Autumn and Winter Movements of Tits (Passeriformes: Paridae) in Urban Areas? Acta Zoologica Bulgarica, 66: 505-510.