Autorid
Photo  Bert Rähni, www.360.ee
Ice map from Estonian Weather Service
Image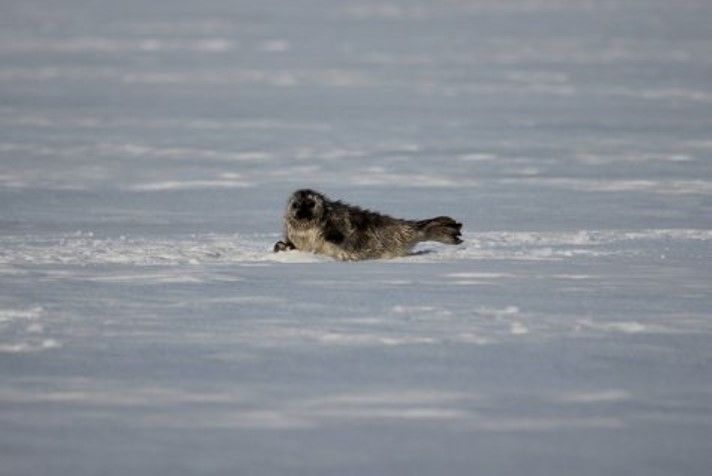 Body
Ringed seal pup on Väinameri (Straits Sea) ice
Ringed seal    Viigerhüljes or viiger        Pusa hispida
We were lucky to see a solitary ringed seal last autumn in the grey seal monitoring camera when it spent some time in the grey seal haulout. Sometimes they move together.
The grey seal is markedly larger than the ringed seal and has a "dog's face" with a pointed nose. The head of a ringed seal is round, the facial cranium flat, so with a cat face. Adult ringed seals are largely the same size independent of sex: body length less than a metre and a half and weight about fifty-sixty kilos. The back fur is dark brown with light ring patches, the underbelly lighter and more grey.
Pupping starts towards the end of February and lasts to March. Ringed seals have their pups on the ice, either in a snow cave or sheltered by hummock ice. So-called breathing holes are kept open even in case of very thick ice.
A ringed seal pup weighs four and a half kilos at birth and is covered by light baby fur, so-called lanugo. The ringed seal female feeds her offspring about one and a half litre of milk a day, with a fat percentage of 30-40%. The increase in weight of the ringed seal pup is about 300-400 grams per day. During this period the female also goes seeking for food through  her air holes.
When they are a couple of weeks old the ringed seal pups are enticed into water by their mother. The mother's care lasts until the young are weaned off milk or six weeks – they have this much careless youth. But the young ringed seal already weighs 25 kilos by then. A few more weeks and the whitish lanugo fur has changed into a grey coat (see the image of the seal pup).From here onwards the young seals must get by in the world on their own. …
The ringed seals in the Baltic are in danger of becoming extinct. Their numbers are affected by ice conditions as well as environmental pollution.