Body
Lapwing     Kiivitaja     Vanellus vanellus
Snow bunting    Hangelind      Plectrophenax nivalis
We meet few arrivals in northern Estonia, the nights are still quite cold, and there is enough snow in open areas. In the windless weather on Wednesday the mist in the coastal areas disappeared in the afternoon, somewhat more inland by noon. In the hayfields where "the straws hate snow" the snow vanishes visibly, but looking across the road to the cultivated fields old winter meets the eye.
So it was yesterday in the  Keila area; when the sun came out some solitary small groups of  birds could be seen and lapwing companies of only a couple of birds were flying around in the open landscape or busy on the dark ground.
The snow buntings that pass through Estonia are moving towards their breeding areas in northern Finland or the Kola Peninsula and we can see these passing migrants for almost a month more. The male birds already have the mating plumage in white with contrasting black, the females are a little more modest – they shine in white and brown hues against the backdrop of snow.
Regrettably we will not hear the song of snow buntings because that they warble only in the nesting area. The inhabitants of the Polar regions call them snow larks.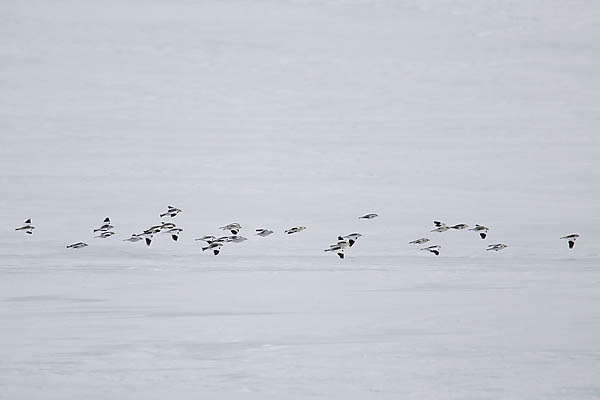 Snow buntings
Snow bunting observations: LINK
Lapwing observations:: LINK