Autorid
Screencap from webcam Juta, LK forum
Translation Liis
Estonian text published 15.08.2017
Image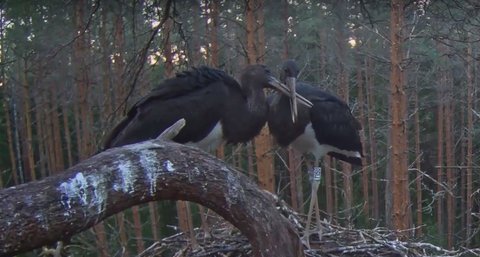 Body
Two storklets are still left to spend the night in the nest…
Black stork          Must-toonekurg        Ciconia nigra
We have not seen the first young stork that left for adventuring for three days. Probably he has started an independent life – if so, we wish good luck!
So storklets quietly leave the nest but sometimes we have seen young birds going out together. The mother and father are still there to feed the young but mealtimes become ever fewer. The youngsters must be brought out of the comfort zone, soon they must begin to take care of themselves with full responsibility anyhow.
Interesting and changing days in the stork nest.