Body
Black-headed gull   Naerukajakas      Larus ridibundus
The black-headed gulls, with heads coffee-brown to the neck, that were busy in the fields in spring during the springtime ploughing and familiar to all we also notice during the autumn ploughing: size about the same as the springtime birds, but somehow with light heads – the black-headed gulls are in their winter or non-breeding plumage .
The birds that have been breeding in Estonia started their migration to the winter quarters already a couple of weeks ago. The groups arriving from the north become less frequent only in October and in the beginning of winter we still meet brave winterers in ice-free conditions.
A good characteristic for identification in winter plumage is the dark patch immediately behind the eye. The tips of the primaries are black and that is visible near the tail even with closed wings.
In the plumage of juveniles we notice somewhat more brownish hues when we can study the birds resting on the rocks at the beach at length. The length of black-headed gulls stays below 40 centimetres but the wingspan reaches up to a metre and the birds weigh about thirty grams. Among the adults the males seem a little bigger and are also slightly heavier.
The migrating groups usually stay at a feeding ground for a couple of days, then move on by and by (at the seaweed banks we can see waders, also on migration, and somewhat farther from the shore goosanders). The migration can be seen in the wader camera as well as the seal monitoring camera but of course also in nature for hikers at the sea in nice weather … and binoculars should always be taken along.
There is not much fish in the shore waters so from what does such a great number of birds feed on at the seaweed banks? Many of us have the notion that at sea gulls feed on fish. The menu of black-headed gulls instead consists largely of all kinds of animal food. At quiet forest lakes or sea bays they will not be fishing but hunt dragonflies or other flying insects. During the ploughing of fields when fresh soil is turned up the birds find earthworms, insects, their larva, sometimes snails and mice and frogs …
In the coastal areas of the sea, in the beach zone, they feed on all kinds of invertebrates and molluscs; if a stickleback or goby happens to come up the mouthful will not be refused either.
Into the food rations of city gull go all that is left by humans.
In autumn we can come across black-headed gulls looking for acorns, feasting on tree seeds or even eating berries…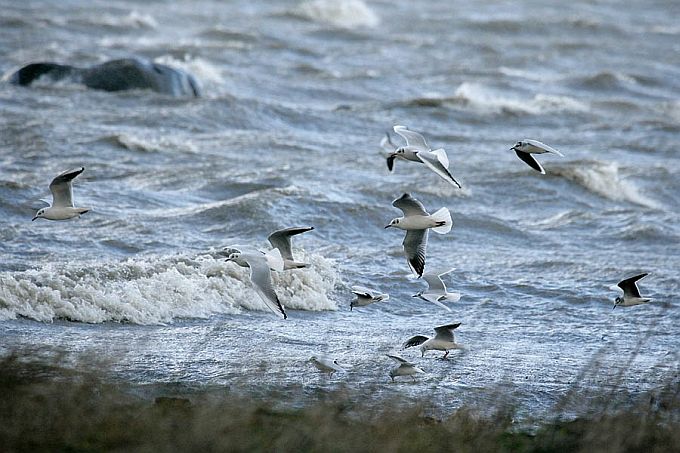 Black-headed gulls on a stormswept beach. Austurgrunne, Vormsi island