Autorid
Images sent by Aita Raud
Translation Liis
Estonian text published 18.09.2017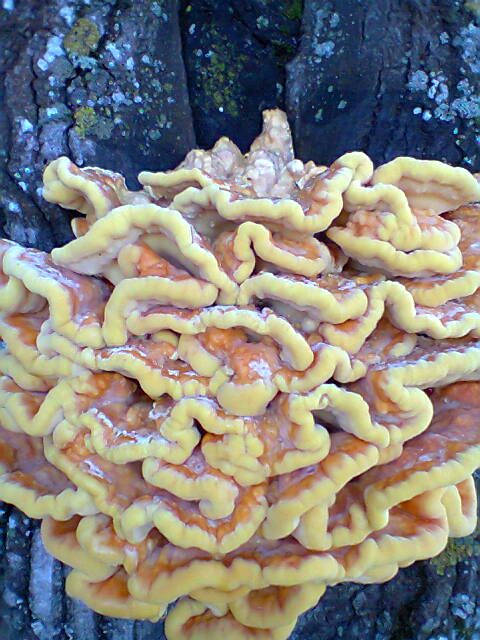 Image from September 17, in Pärnu at Riia road, corner of Alevi cemetery and Selver's parking area towards the city
Body
Sulphur polypore; Chicken-of-the-woods     Vääveltorik or  väävlik         Laetiporus sulphureus
We can see the beautiful sulphur polypore or chicken-of-the-woods growing on old oaks or white willows, on the trunk of the tree or on thicker branches. On other broadleaf trees it is rather rarely found. In city parks, avenues or on solitary older trees it can develop already in the second half of June.
The fleshy annual mushroom caps grow on top of or beside each other but always joined as a whole to the substrate. The fragile fruiting bodies may be coloured bright yellow to orange red. The mature caps are colourful for a couple of weeks; when the spores have fallen out the caps fade and become brittle. Later a pale, characteristic mark remains on the bark from the mushroom cluster.
The mushroom causes entrance points for rather rapidly growing brown rot in the trunk. After the fruiting bodies have appeared for the first time white willow trunks may start breaking after ten to twenty years. On a sturdy oak the effect is not as seriously damaging but causes hollows in the trunk.
Is the sulphur polypore edible? Years ago I asked our mushroom authority Erast Parmasto but not even he had tested it for eating.
We can note that these urban mushrooms simply crumble on the trees as autumn arrives. Researchers claim that the yellow pigment of the sulphur polypore has an anti-microbial effect, containing the protein lecithin – with this pigment the fruiting bodies protect themselves against being eaten.
A strong anti-microbial effect has been proven.
According to information in literature the young fruiting bodies are used for food in Germany and USA: for flavouring, or eaten fried after coating with egg and breadcrumbs. They are hardly picked in city parks or parking spaces, rather probably cultured.