Autorid
Linnuvaatleja science news, www.linnuvaatleja.ee
Translation Liis
 
Estonian text published in Looduskalender.ee 19.09.2017
Body
In the first weeks of their life the inexperienced young birds are easy prey for predators. They also have little knowledge of foraging opportunities which makes them stay close to the nest.
As is the case with many other birds of agricultural landscapes the number of turtle doves (Streptopelia turtur) has declined rapidly in Europe and also in Estonia. In the years 1980 – 2013 the number of the species fell by in Europe 78%, and by as much as 96%  in Great Britain in the interval 1970 – 2012
The cause of the decline is thought to to be a reduced foraging basis as the result of intense soil cultivation: areas with a choice of varying seeds suitable for the foraging of turtle doves have been reduced in favour of monocultures.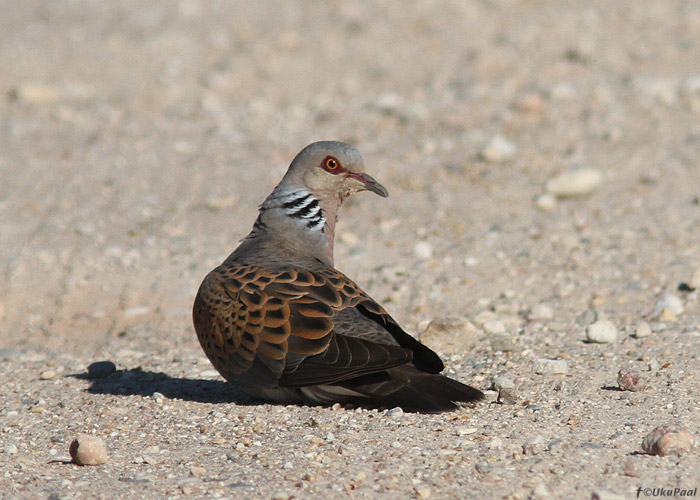 Turtle dove. 25.08.2013, Meeksi, Tartumaa / Photo: Uku Paal (www.estbirding.ee)
In environmental conditions changing due to human activities the ability of a species to rapid adaption is essential. One possibility is adaption by behaviour or choosing the environmentally best areas for habitats. In the case of of young turtle doves survival success can be increased by selecting the best areas for foraging. Whether they do so and whether scarcity of seeds also influences the survival of the birds was studied in east England.
The scientists measured the turtle dove chicks, provided them with GPS devices and observed their movements after they left the nest. By this they attempted to find connections between survival, visited foraging areas and the amounts of seeds there.
From the study it evolved that during the first three weeks the young birds were feeding in areas with an abundance of seeds: semi-natural grass areas, areas with a low grazing pressure and quarries at distances of up to 329 metres. More than half the time however they spent less than 20 meters from the nest. Later, at 4-7  weeks, the young turtle doves became more mobile and 95% of the foraging areas were situated up to 2,92 kilometres from the nest.
Chicks that weighed more at seven days, or nearly a week after leaving the nest, and were in a better physical condition, very probably stayed alive 30 days after leaving the nest. Here the weight and condition of seven-day chicks depended on the abundance of seeds in the vicinity. The authors of the study point out that although only 15 birds could be provided with transmitters the results show that an abundance of food is a critical aspect in the survival of the young birds during the period when the adults feed them as well as after leaving the nest.
The survival of the young birds determines the future fate of the species. In order to assure a varied food basis the nests of turtle doves should be close to areas with a suitable vegetation. Sensibly applied, knowledge of what environmental conditions are important for turtle doves would help in improving their abundance, now at a critical level
Dunn J, Morris A, Grice P (2017). Post-fledging habitat selection in a rapidly declining farmland bird, the European Turtle Dove Streptopelia turtur. Bird Conservation International 27: 45-57. doi:10.1017/S0959270916000022
Science news from Linnuvaatleja are edited by Marko Mägi, marko.magi/at/ut.ee , bird ecology researcher at the University of Tartu