Autorid
Information from Estonian  University of  Life Sciences
Photo Ülo Väli
Translation Liis
Estonian text posted on 13.10.2017
Image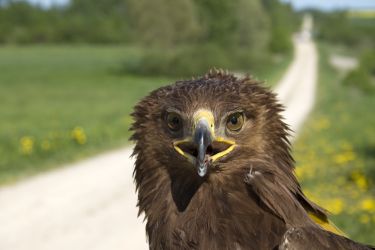 Body
Sander is one of the birds provided with a transmitter that registers the migration path of the bird. Based on a DNA investigation Sander has turned out to be a hybrid of greater and lesser spotted eagle.
This summer the Estonian University of Life Sciences started the project "Knowledge-based conservation of the globally vulnerable Greater Spotted Eagle in Belarus". The aim of the project is to apply knowledge and experiences gathered in the studies of eagles in Estonia to establish the status of the greater spotted eagle population in Belarus and to protect it.
According to Ülo Väli, senior scientist at the Estonian University of Life Sciences, the greater spotted eagle is a globally vulnerable species whose numbers have decreased significantly or that has become extremely rare in its former distribution range in Europe. In Estonia it inhabits only about ten areas and even there in more than half of them in mixed pairs with the lesser spotted eagle.
Outside Russia greater spotted eagles are found in greater numbers only in Belarus where 120-160 pairs are estimated to breed. The protection of this population is of paramount importance in Europe, thus more research and conservation measures should be devoted to the greater spotted eagles in Belarus.
This year six greater spotted eagles were tagged with GPS transmitters in Belarus to study their choice of habitat in their breeding and wintering areas and to establish the major migration paths. 50 DNA samples were also collected from the birds in order to determine the proportion of pairs hybridizing with lesser spotted eagles in Belarus.
Partners in the two-year project are the non-profit organisations Eagle Club (Kotkaklubi) in Estonia and Achova ptušak Baćkaŭščyny (BirdLife Belarus) in Belarus. The Estonian Ministry of Foreign Affairs finances the programme within the framework of co-operation development.
From Estonia two larger spotted eagles with GPS transmitters, five lesser spotted eagles and one hybrid of the two species set out on their autumn migration, including Sander (photo above). The migration of our birds and that of the Belarus spotted eagles can be followed on Internet at:
http://birdmap.5DVision.ee