Autorid
Text and images Aivar Leito
Translation Liis
Estonian text published 19.10.2017
.
Body
Photos from the catching of "Ahja 5" on July 6, 2016.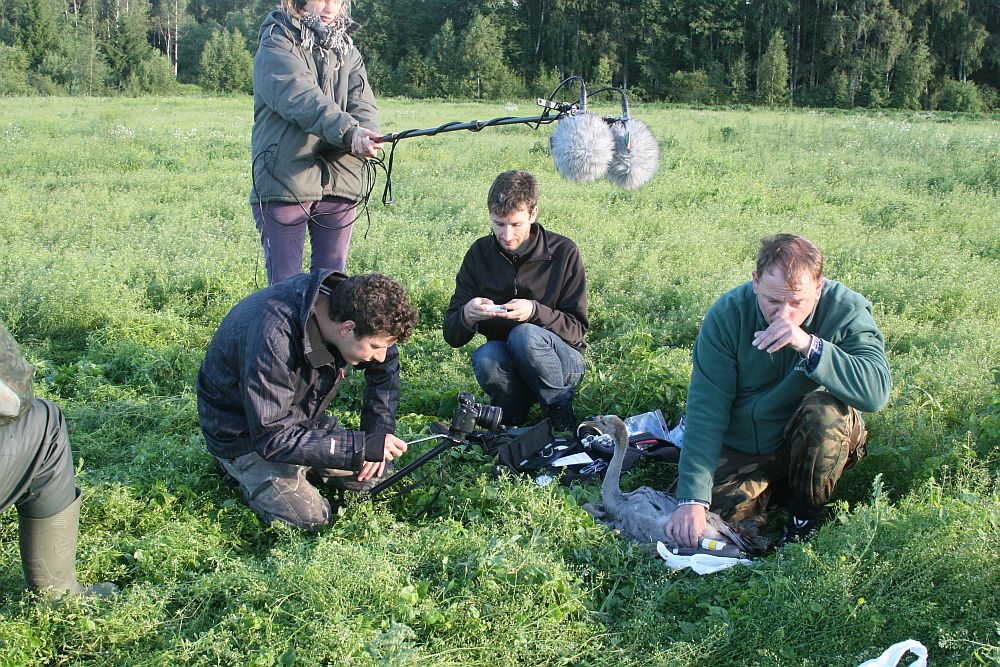 "Ahja 5" and Ivar Ojaste with the French crane film team
Dear Crane Friends!
I am happy to tell you that our famous crane "Ahja 5", caught and provided with a satellite transmitter at Ahja last summer, made his first long migration leap of this autumn from Askania-Nova in South Ukraine where he has spent the whole summer, to the Hula valley in Israel.
He started the migration in mid-morning on October 16 from the fields of the Illinka village and headed straight for Simferopol in the Crimean peninsula that he reached at noon, then headed on to the tip of the Crimean peninsula and across the Black Sea to Turkey. He crossed the sea in a straight south-southeasterly direction and reached the Turkish coast at the city of Türkle around 5 o'clock local time.
The migration continued in a south-southeasterly direction without stops – a non-stop flight – across central Turkey to the coast near the town of Yumurtalik in a south-western bay of the Mediterranean, then across the sea and along the coast to Latakia in western Syria. The migration continued further without stops in a south-south-westerly direction across central Lebanon to northern Israel. The first migration leap ended at the Hula lake (wetland) where the crane landed on October 17 in the evening about 6 o'clock local time.
Yesterday too the crane stayed in the Hula Nature Protection area and remains there to revive and restore his used-up fat stores. It is likely that he will go on migrating in a couple of weeks to the wintering area in Ethiopia but that he stays in northern Israel for the winter cannot be ruled out.
The total length of the first migration leap was nearly 1600 km which "Ahja 5" passed in 31 hours making an average migration speed of 52 km/h. It is not quite a new world record but quite close to it. The flight altitude was in a range of 200 - 2000 m, in general 500 - 1500 m above sea level. Above the Black Sea the flight altitude was mainly 500 -.1000 m and at most up to 2000 m.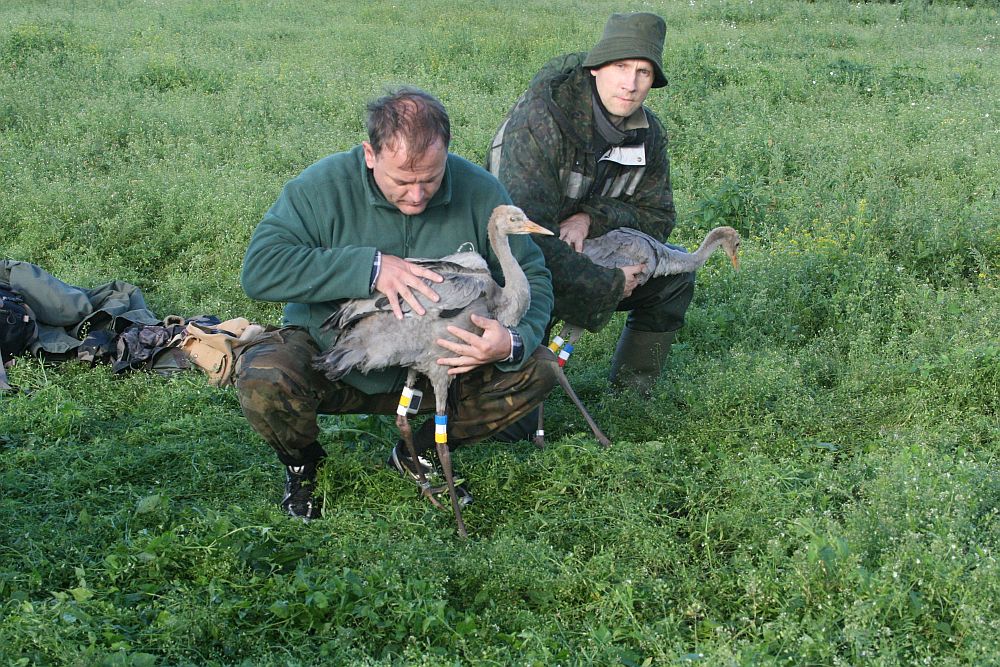 Ivar Ojaste on the left and Uko Bleive on the right
As of this morning (October 18) among the other sat cranes crane "Liiva" had reached north-western Germany near Berlin, cranes "Aivar", "Uko" and "Paslepa" the Hortobágy area in eastern Hungary, "Mustakurmu" the border between Ukraine and Belarus, "Mati" north-eastern Poland, "Ivar" central Lithuania, "Hauka 3" north-eastern Lithuania and "Loode" westerm Latvia: Migration map LINK  (NB. Set appropriate date and bird selection in linked map to get the above view) 
The Crane Migration Webcam still works but by now mostly geese and ducks are seen and heard there. The crane migration is coming to an end.
LINK  (Crane migration)