Body
Fieldfare             Hallrästas         Turdus pilaris
Although the migration of the fieldfares that have been breeding in Estonia started already in the second half of August flocks of passing migrants are evident: they forage in all kinds of fruit trees even in the first decade of November. Fieldfares migrate in daytime as well as at night. We can also encounter migrating flocks of other thrushes and starlings.
The number of winterers depends on the severity of our winter. Admittedly fieldfares are not very well known because almost every winter some photos are sent to LK with the question who is in the photo?
The fieldfares are our largest thrushes, length including the tail is about a quarter of a metre, weight a little over a hundred grams. The exterior of female and male birds doesn't differ.
At once on seeing the birds the grey head and rump area are evident, clearly visible in the flight image and missing for other thrushes. In flight we can also see the white underwings. Back plumage beautifully dark brown, throat and chest yellowish with clearly visible streaks along the flanks and breast. The black tail also catches attention
The weather has turned colder day by day, but on the trees the birds still find plenty of various fruits this year. In apple orchards they pick the seeds out of slightly frozen apples. On the ground they move by jumps, among the fallen leaves something edible can still be found.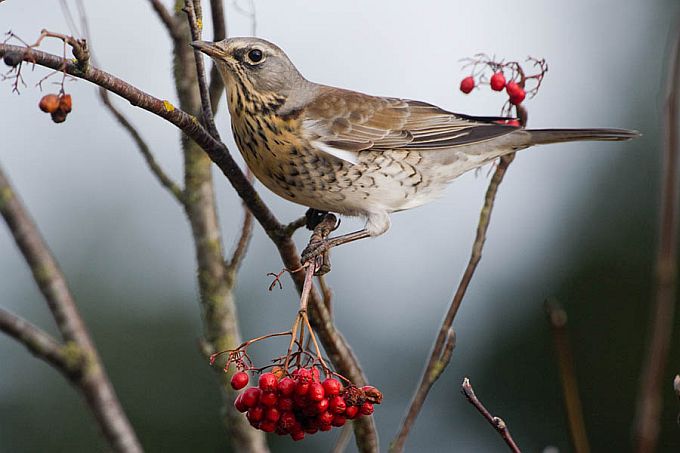 Fieldfare
Fieldfare observations: LINK