Autorid
Transmission courtesy of Andigo Eesti OÜ and EENet
Technical implementation ITrotid
Translation Liis
Estonian text published 26.10.2017
Body
Direct stream | News | Forum
Stream for mobile devices (if the above does not work): iPhone, iPad, Android, VLC
For older PCs: Flash Player (using Flash in the browser may not be secure)
For the salmonids the most important activities of the year have begun, and we try to share the images with everyone with an interest in fish and fishing. The camera was installed yesterday, connection was established today. We will see how it will survive the predicted storm at night.
The images are from a Canon HV20E video camera, with a WD-H43 wide-angle converter. The sound is brought to the transmitting computer by an ART sound card. The encoding of the video stream in the computer was complemented by Urmas Lett, Eenet.
The external connection is provided by Andigo Eesti OÜ.
ITrotid OÜ monitors the complete set-up: Tiit Lepik designed the overall solution. Work on the net in Põlula was carried out by Ivo Kivinurk. Camera settings Andri Puusepp.
Filmmaker Rein Maran from Gaviafilm supported us in arranging the lighting.
Kaido Haagen (www.kaidohaagen.com), whose underwater photos are known to many of us, helped in the field work with installations and adjustment of the video image.
RMK Põlula has been a great help to us each year with Kunnar, Ene and Ivar, specialists from the Põlula Fish Rearing Centre.
LK forum carefully observes all that happens in camera view
Looduskalender monitors the whole process  and introduces the life of brown trout and when needed comments on the events in camera view.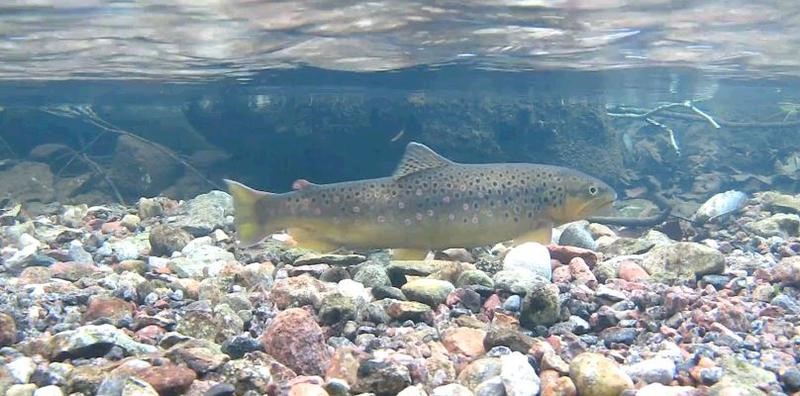 The screencap of this year's first visitor in camera view was caught by Liz, LK forum