Body
Whooper swan      Laululuik           Cygnus cygnus
Bewick's swan      Väikeluik             Cygnus columbianus
We met the first Bewick's swans stopping for a migration pause in mid-October. The most important stopping places on the coast and in West Estonia are: the Matsalu bay, Haapsalu  Bay and the Silma Nature Reserve, and around the islands Väike  väin and Käina  Bay, the Pärnu  Bay and the Audru  polder. To the east the Peipus  lake, the Kallaste-Mustvee  shores and also Lake  Lahepera.
The Bewick's swans leave Estonia in the second half of November for their traditional wintering areas in the Netherlands, Great Britain, Ireland, Germany or the Danish wetlands, polders and often also arable land. Only about twenty Berwick's swans stay in company with our whooper swans to winter here, depending on the severity of the winter and ice conditions.
From the upper photo of Arne we can see that telling Berwick's swans and whooper swans apart may be quite difficult for an inexperienced birdwatcher. On the autumn migration they can be encountered in mixed flocks.
Let us have a look at the similarities and differences between the adults of these white-plumaged birds.
The weight and the neck length of Bewick's swans is smaller than that of whooper swans. About the difference in weight: Bewick's swans 5 to 10 kilos and whooper swans 7 to 12 kilos; from afar and with a bare eye difficult to distinguish. With binoculars the beak of the bird should be looked for: while the yellow on the beak base of Bewick's swan covers about 1/3 of the beak (the patch seems more angular) then that of whooper swans covers 2/3 (reaching the beak too) and the neck of the somewhat sturdier birds seems longer as already said. The juveniles of this summer still wear a grey plumage.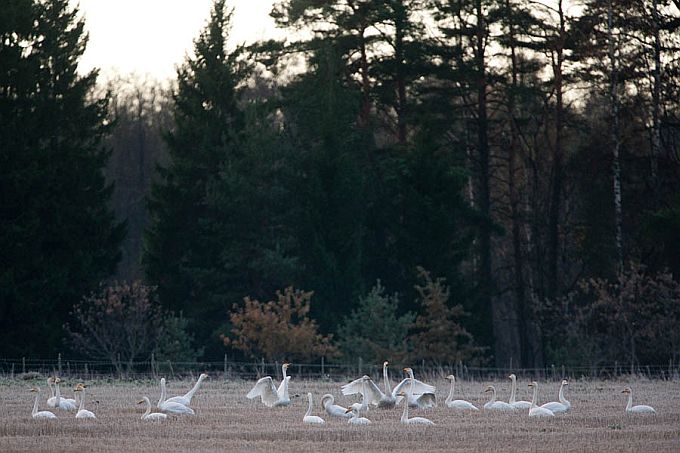 Whooper swans in a stubble field
The Finnish national birds have estsblshed themselves in Estonia in the last twenty years to breed in bog lakes (and not only there) and their number is estimated at about a hundred breeding pairs.
The migration of whooper swans occurs a couple of weeks later compared to Bewick's swans. But migrants flying past from the North can still be seen in December. The wintering areas of whooper swans and Bewick's swans are similar.
Whooper swans wintering in the North Estonia or western Saaremaa open waters are a common sight. In milder winters up to a thousand whooper swans, in more severe winter conditions some hundred.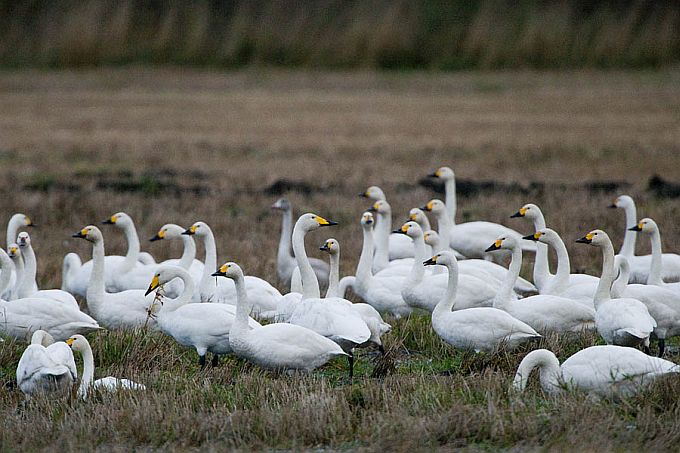 Whooper swans and Bewick's swans. Matsalu