Autorid
Transmission courtesy of Elisa and EENet
Introduction Tiit Hunt, www.rmk.ee
Translation Liis
Estonian text posted 08.11.2017
Body
Direct stream | News | Forum
Stream for mobile devices if the above does not work: Windows 10 Mobile, iPhone, iPad, Android. VLC
Older computers: Flash player
The migration camera that has been used for monitoring cranes and geese in five different places in Matsalu on the Sassi Peninsula has finished for this autumn. We will continue the spring migration again in Sassi, the birds will then stop and feed for longer here than on the autumn migration when they could mostly be seen in large numbers in flocks in passing flight.
On Sunday, November 5th, we installed the webcam on the Metsküla beach, in a location about 5 kilometres distant from where in 2013 the first evidence was obtained of the presence of the golden jackal (Canis aureus) in Estonia. Of course they were actually there already some years earlier.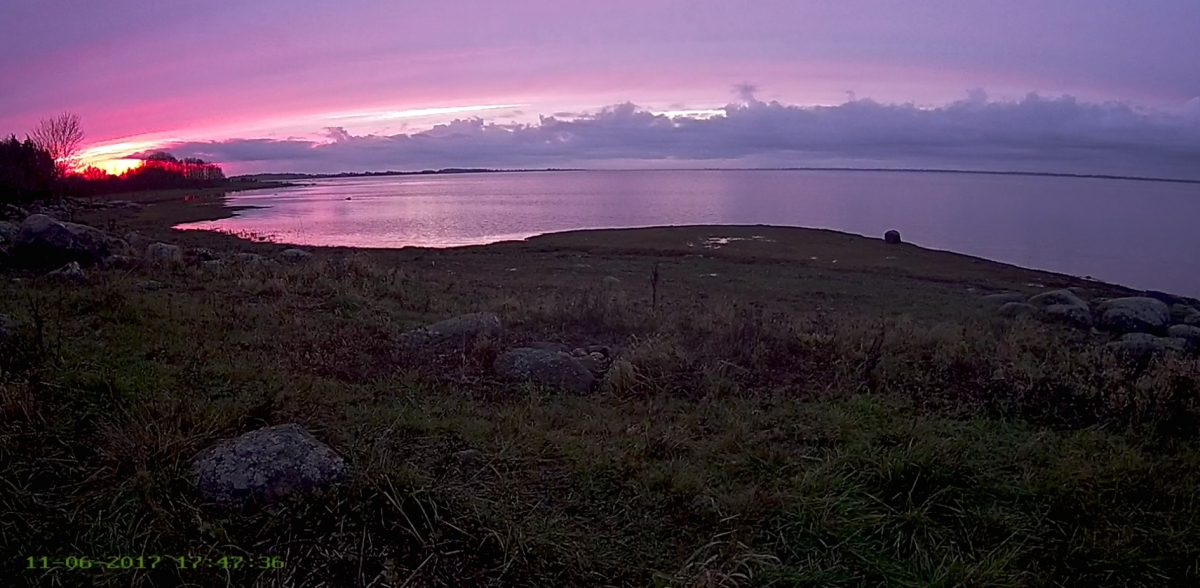 So the new camera view looked last night.
By today the number of jackals has increased considerably and they have started to kill domestic animals more often. Here close to the webcam 25 sheep from the farm's herd have been killed and in addition one and a half week ago two Highland Cattle calves.
Evidently there is no evidence that the killers were jackals each time, the lynx that was caught in camera view and recently the tracks of a solitary wolf in the neighbouring village raise possible assumptions about other killers too. Whether jackals would be able to kill a Highland Cattle calf – we really do not know.
In the Ancient Lights Night when the guests walked towards the sauna beside the farmhouse they saw close to it illuminated by flashlight six jackals. As Andrus from Ullaste village said the sleeping area of the jackals is on his land and the sheep flock in the Maidu beach meadow is on their feeding ground..
This is where the webcam is placed now. The jackals should be coming from west in the evening-night along the shore straight towards the camera. We will see and be waiting – already at the installation of the camera in the evening at about half past five the song of two jackals was reverberating at the beach.
It is not yet possible to see night images until the ordered IR lamp arrives; it should be nearly invisible for the canines.
Hear the jackal
​The mobile connection with the EENet server is provided by Elisa
Encoding and splitting of the stream for users – EENet
The RMK portable webcam set was installed by Hatcam
Partners in the enterprise: