Autorid
Introduction  Tiit Hunt, www.rmk.ee
Transmission provided by Teetormaja and EENet
Technical support HATCAM
Translation Liis
Estonian text posted 18.11.2017
Body
Direct stream | News | Forum
Stream for mobile devices: iPhone, iPad; Android, VLC
The fifth season of the RMK deer camera has started, and again in the same place from where the camera view has been transmitted in all previous years.
Reminder –we could observe the deer directly in a webcam for the first time in February 2014.
Over the years some strange and interesting things have happened on the feeding ground. The deer with the curious dark and long tousled fur was a riddle.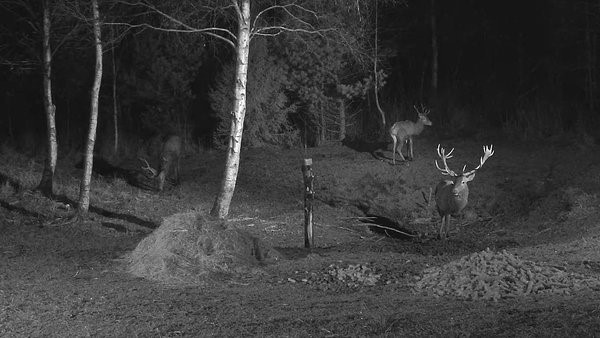 A comical moment came when a male deer with a "turban" walked on to the ground – a length of loose polymer cover from a silo ball had got wrapped around its antlers.
Once a jay flew on to the rump of a deer and "travelled" for some time on the back of the peacefully stepping deer.
And the occasion with the irritated deer that got exasperated at the mallards swimming in the water puddle and drove them off to the other end of the pool.
It was comic to see how a fattened-up badger and a likewise fat raccoon dog chewed apples nose to nose or the marten that stretched to find the best apple in the heap and climbed a birch bringing along a fruit the size of its head..
The fox came here to hunt mice … there would be many more stories.
A video record worth seeing from the previous season is the occasion in spring when one deer kicked the antlers off the head of another..
The video stream from the deer ground is transmitted by way of mobile towers by Teetormaja and made viewable for watchers by EENet.
Partners in the enterprise: