Autorid
Videos recorded by Biker, LK forum
Translation Liis
Estonian text posted 25.11.2017
Body
Jackal; Golden jackal     Šaakal or harilik šaakal    Canis aureus
It was a little doubtful if we would see jackals in the webcam on the first night with illumination – plenty of human smell remained at the site after the installation of the lights and inspection of the site…
Now there is reason to introduce the predator that has recently arrived among our wildlife more in detail. In 2010 inhabitants around the Matsalu Nature Reserve heard a strange howling for the first time (maybe even a little earlier). They have also been shot in Belarus, Lithuania and Latvia.
The first young jackal, less than a year old, was found in Estonia in 2013. Researchers of the southern populations and their migrations know that the otherwise permanently settled jackals can undertake short migrations characteristic for the species in a range of up to a hundred kilometres to find better feeding areas, and so arrive in new places. Similar migrations are also made by the wolves, relatives of jackals, and their families. It allows them to become familiar with the territory in a new place quickly and lets the flock decide whether to stay in a new place, go on or return.
The length of a regular migration move may however be to up to 1 200 kilometres, and the leader of the migration is generally an adult male. If hunting occurs in such a territory or a female is killed then almost certainly jackals have settled in the territory.
In Estonia jackals have so far only been encountered in coastal areas, from the mainland no reports have come as yet. The foremost enemies of jackals are of course man and wolf, The numbers of the latter however are not large (near the webcam wolves also were recorded by a trail camera)..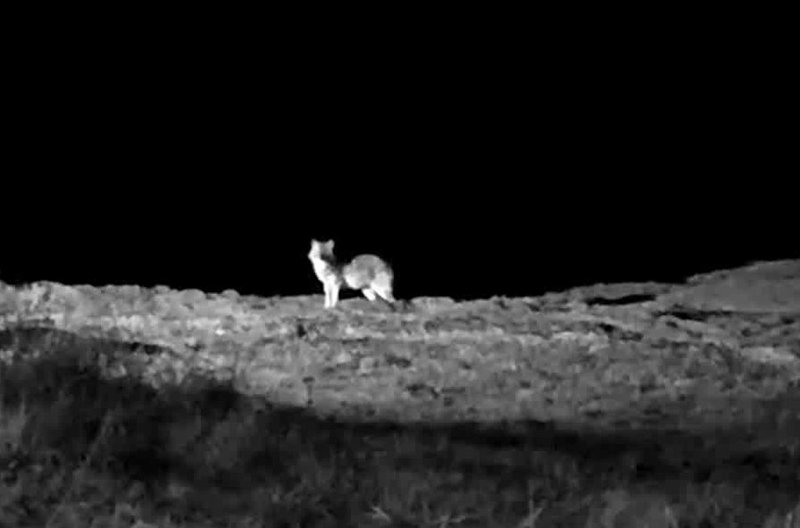 Jackal by night at the beach
Video clip Fleur, LK forum
Saturday, fox on its beach checking tour at midday
Jackals do not tolerate smaller predators in "their" territory and gradually drive them out. The fox moves along its customary routes, we will see how the predators will react to him. It may be assumed that the number of food competitors such as raccoon dogs in the territory will also decrease.
It seems that we will be able to introduce the jackals at some length: we have for instance not looked at their menu, history etc. The mating period does not begin until February and what we have seen in the webcam certainly produces food for thought.