Image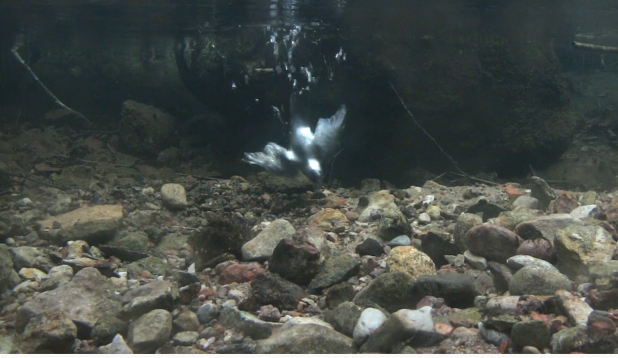 Body
…ninespine stickleback for prey
Kingfisher          Jäälind         Alcedo atthis

 
The kingfisher is a well known and beloved bird because of its plumage; thanks to the bright colours even called the jewel of the North.
The pair living near our spawning place camera is active there already since several years. The spring-fed spawning site does not freeze and offers a chance for survival, although meagre. The hunting is carried out from an alder growing at the spawning ground and the "war cry" of the kingfishers is heard more frequently than the bird is actually seen diving. for prey.
The winter–time bird surveys confirm that about a hundred winterers remain in Esstonia at unfrozen stream and river cuts
Photo Piet Spans, http://commons.wikimedia.org/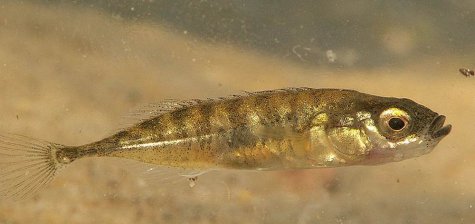 It looks as if we have a female ninespine stickleback
Ninespine stickleback      Luukarits         Pungitius pungitius
This is how the ninespine sticklebacks look that inhabit Estonian spring-fed rivers – the smallest among the sticklebacks. It is not known if anyone has made a particular study of them, but they are interesting creatures that may even live in a water well.
At a year of age their length may be about three centimetres, older individuals (ninespine sticklebacks are known to live only to three years of age) grow up to six, seven centimetres long.
The body shape is oblong, mouth upwards-pointing, a notably narrow caudal peduncle. In front of the dorsal fin nine spines can be seen (but individual specimen may have more or fewer). The spines can be upright or aligned with the back. In front of the ventral fin there is a single moveable spine.
Ninespine sticklebacks can be quite differently coloured on the back and the bands beginning at the back may reach to the edge of the belly. There are no scales on the body but the caudal peduncle is covered with small bone plates.
What can be caught is also eaten, beginning with zooplankton and going to fish fry hatched from roe. Roe flushed out of the spawning nests is also hunted but for the spawning nests of brown trout that are covered by gravel the sticklebacks lack sufficient strength.