Body
Jackdaw     Hakk           Corvus monedula
Jackdaws arrive to Estonia for winter from their northern and north-eastern breeding areas and in places can create an atmosphere of the film "Birds" by Alfred Joseph Hitchcock …
While the number of the springtime nesters has varied between thirty and fifty thousand pairs then the winter numbers may be four to five times larger despite the fact that that our young birds from the spring already have left for the southern wintering areas. Usually the migration ends with the arrival of December.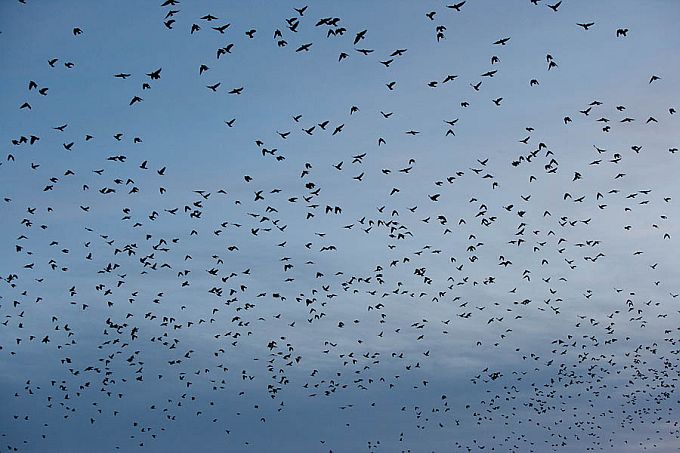 Evening gathering flight of jackdaws and crows
The wintertime behaviour is not similar to that in the breeding period: the night-time gathering occurs at twilight when they arrive from the daytime foraging trips in for instance parks or trees in cemeteries. We can see their flying skills there – how skilfully they use the rising air flows during flight.
All jackdaws wear silver grey headscarves, the back plumage is dully black (a metallic sheen is visible only in early spring). The forehead of all jackdaws has black feathers and so the iris of their eyes seems whitish but the actual colour is steel gray. The plumage of the young birds that arrive here for winter is darker than that of the adults which observant watchers surely notice.
The smallest representative of the corvids but smart and prudent. Body length about thirty centimetres, weight a little less than a quarter of a kilo. The pair relations of jackdaws are so to say "for ever " among migrants too, unless nature of course interferes. Jackdaws acting in pairs can be seen in winter too.
As regards menu these companions of humans are not particularly picky. Of course they prefer animal protein but all kinds of seeds are acceptable too. The city jackdaws are busy rubbish sorters when they find an open thrash bin. At a wintertime bird feeder they are interested in fat balls as well as lard but among seeds only peanuts are picked out.
The irritatingly noisy birds can by the way imitate all kinds of ambient sounds if anyone cares to listen carefully.
Observations of jackdaws in last week: LINK
Jackdaws