Autorid
Text and images from the ringing sent by  Aivar Leito
Screenshot from web camera  Fleur, LK forum
Translation Liis
Estonian text posted 22.06.2018
Image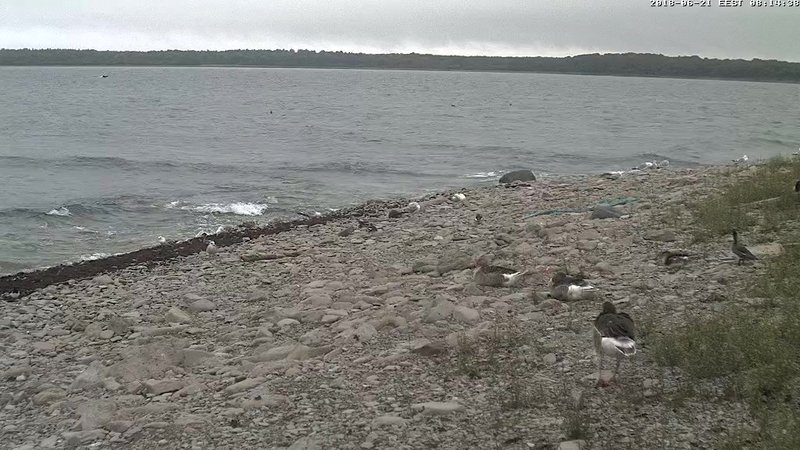 Body
I have followed the seal camera at Innarahu on the Saaremaa western coast constantly besides the other Looduskalender web cameras.
At the moment I see on the screen grey geese, mallards, mew gulls, great black-backed gulls and herring gulls, arctic terns and oystercatchers and at sea the male eiders that begin their moulting.
Most of them besides the terns and oystercatchers are non-breeding "lazers" that are in no hurry anywhere and with the foraging raids of white-tailed eagles on the islets the only worry.
For me the moulting grey geese are particularly interesting. From the wings that they stretch time and again it is visible that for most the flight feathers are in the moulting stage and the birds are evidently already unable to fly.
The peak period of the moulting of grey geese during which they are unable to fly for several weeks is in the second half of June and first half of July. The Innarahu is a well known moulting area in the coastal waters of Saaremaa where up to a couple of hundred geese have been counted. For the moulting the grey geese escape to those islets where there is grass to nibble and that are little visited by humans, to find peace and avoid dangers.
The same goes for the moulting eiders. On a couple of occasions I have also seen groups of mute swans in the water that evidently also start their moulting. Some time ago also three non-breeding Canadian geese were observed.
At the moment no red-breasted mergansers or gadwalls are in camera view. Otherwise they were seen in large numbers all spring. A particularly pleasant surprise for me was the great number of red-breasted mergansers that evidently also have nested on the isle together with the gadwalls..
A couple of times I have also seen  solitary tufted ducks and lesser black-backed gulls- Among passerines the wagtail is often in camera view; very probably it also nests on the islet.
Of the gray seals themselves lately only solitary ones have been visible and they too were out swimming in the water. But all in all there is almost always something interesting to see in the seal monitoring camera, and the camera is worthwhile following.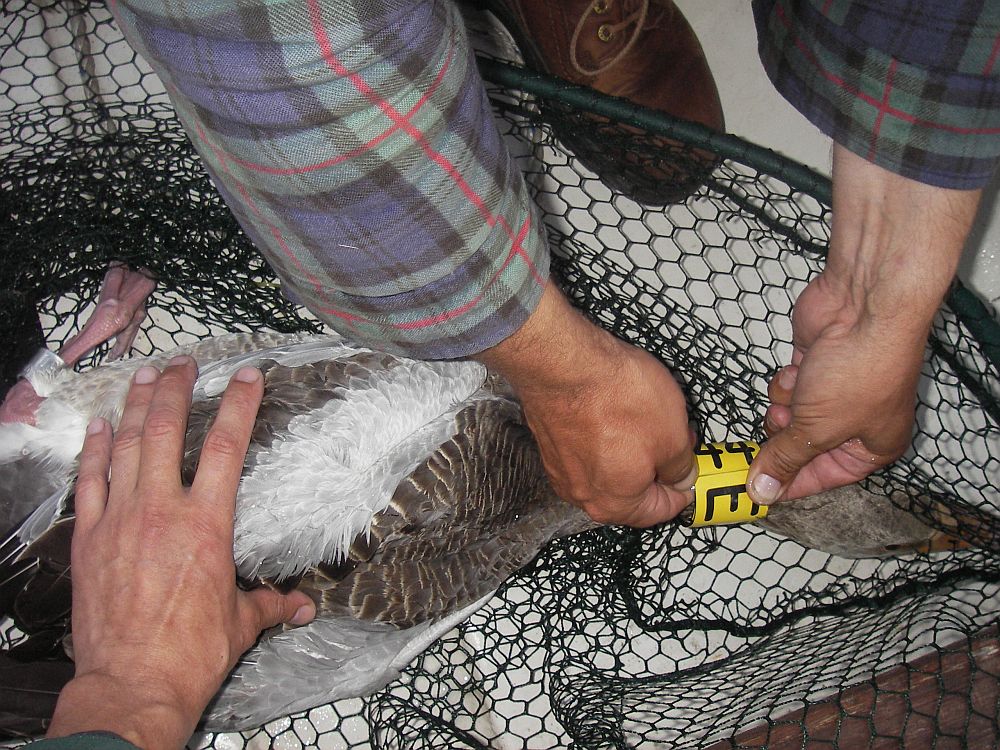 Catching of moulting grey geese and marking them with a neck ring and GPS transmitter