Autorid
Screenshot from webcam  Hagnat, LK forum
Translation Liis
Estonian text posted 22.06.2018
Image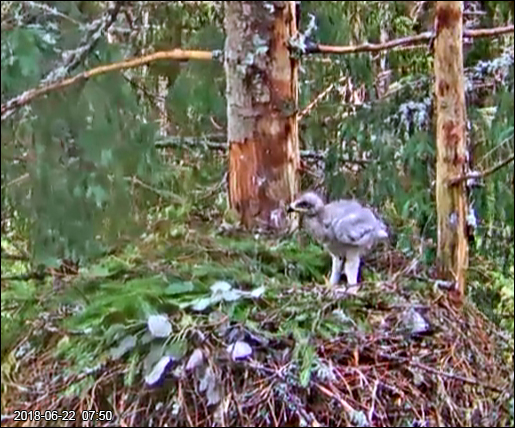 Body
Birthday child
Greater spotted eagle       Suur-konnakotkas       Aquila clanga v. Clanga clanga
The time has passed quietly and seemingly unnoticed, and the eaglet became three weeks old in the care of its parents.
Let us look at the similarities and differences between the nesting sites of greater spotted eagles and lesser spotted eagles.
Both species choose as  nesting places old forests which have to be at least 80 years old. But the nest is not built in the top of the tree as by other eagles but in a sheltered position in the middle of the tree, and for the nesting tree for instance spruce, aspen, black alder, birch … will do. Here the greater spotted eagles prefer more marshy deciduous forests whereas the lesser spotted eagles rather choose spruce forests or mixed spruce forests.
The lesser spotted eagle is the most common nesting eagle species in Estonia: 600 pairs are estimated to breed. In contrast there are only some ten breeding pairs of greater spotted eagles.
The spotted eagles are rather difficult to distinguish from each other but quite as the name indicates the greater spotted eagle is larger and stronger and with darker plumage than the smaller species. In addition the species may establish mixed pairs as a result of which we may meet hybrid birds with mixed characteristics in nature.
The feeding territories of both species are rather similar. Most often we encounter the spotted eagles in cultured meadows, less often in water meadows, grain  fields or fallow fields. Basically they hunt for smaller rodents, about half of the prey consists of common voles (Microtus arvalis); moles (Talpa europaea) are also caught to a considerable extent.
While the prey of lesser spotted eagles contains smaller birds and frogs up to about 10%, the greater spotted eagle more often hunts for larger and chunkier birds.
Despite the Estonian species name  - konnakotkas or frog eagle - the birds are connected to frogs only by the name, but we have seen male Tõnn bringing some occasional frog to the nest in the webcam. 
A brief preview of the development of the greater spotted eagle juvenile:
The eaglet starts flying exercises in the nest in July, and by August the wings should already carry for an excursion out of the nest although the flight will not go far from the nest. The adults feed the eaglet until the migration in the middle of September.
The webcam offers an opportunity to observe the process and to check what happens against the presumed course of events.