Autorid
Observations forwarded by Aivar Leito
Screenshot from webcam  UteL, LK forum
Translation Liis
Estonian text posted 20.07.2018
Image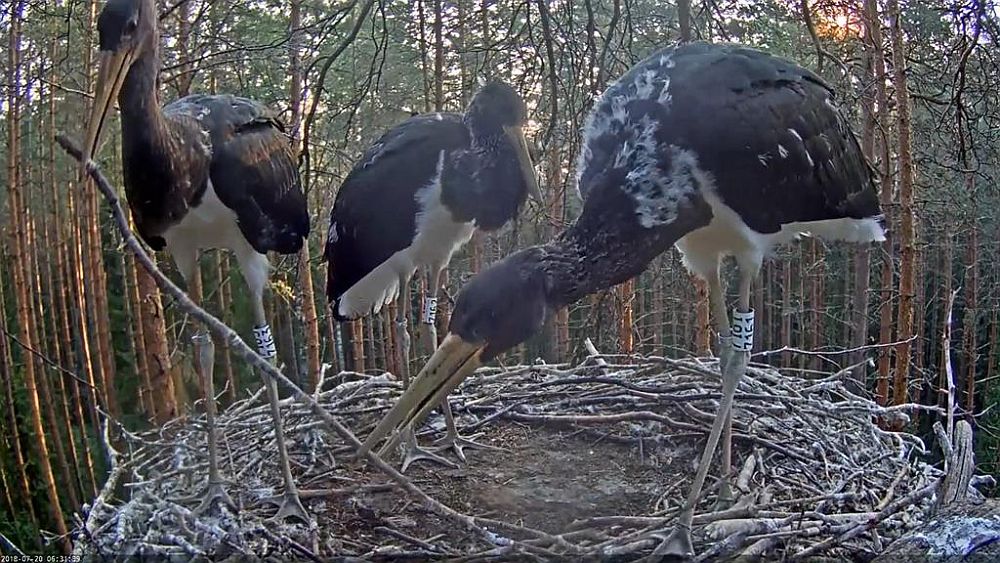 Body
Dear bird friends and watchers of the webcams!
I am a constant bird camera observer and ponder about what is seen there: who, what, why and how in the nest life of the chicks since their hatching.
I have noticed similarities as well as differences depending on the species, the age of the chicks and other factors such as the relations between parents and chicks and external forces.
In the case of the chicks of the black storks it has been clear that their internal relations are close and many different behaviours and reactions can be seen.
Until lately all three chicks have slept together tightly pressed against each other  during night as well as day and to the relations belonged different throat sounds, hissing and beak tappings as well as grooming each other's feathers and nibbling.
The relations with the parents seemed to be much less and much less varied , only as very small chicks the relations were more frequent and stronger. 
I also happened to come across the episode when Urmas Sellis and helpers brought the chicks down from the nest for ringing. For a long time (all the same day) all chicks seemed to be strongly disturbed, stressed, which of course is a normal reaction, but the internal relations between the chicks were also disturbed and during the next day aggressive behaviour occurred.
By now peace in the nest seems to be restored and the behaviour of the chicks is normal and as earlier. Since the chicks already make active flying exercises with their wings space is limited and bickering occurs. Hierarchical relations are also noticeable: There is a "boss" (so called  dominant) and subsequent hierarchical levels on two different levels, at least in my opinion... At the moment also the chicks keep a maximum distance in order not to irritate each other and to keep free space around oneself.