Autorid
Screenshot from webcam IceAge, LK forum
English translation Liis
Estonian text posted 01.08.2018
Image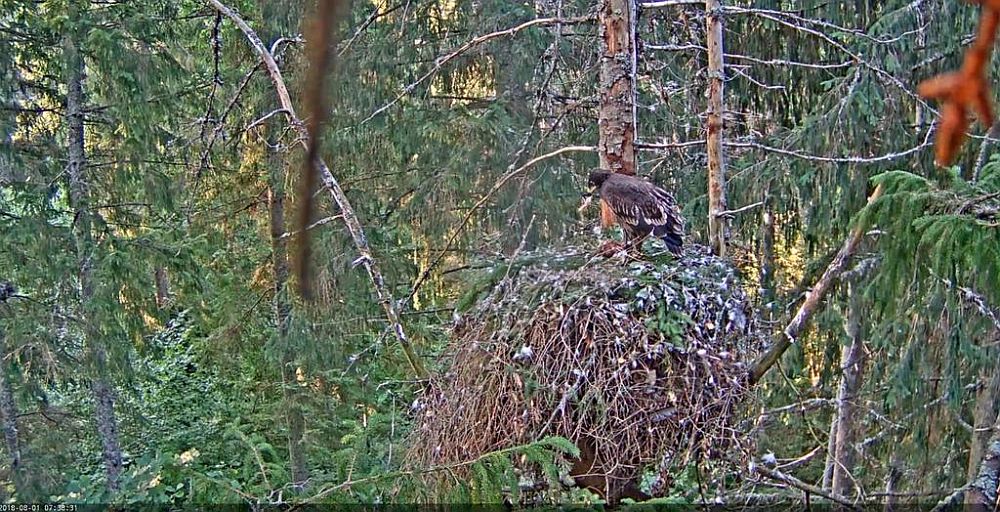 Body
Male Tõnn brought a largish prey that the eaglet manages very well on his own
Larger spotted eagle       Suur-konnakotkas         Aquila clanga or Clanga clanga

 
A large and handsome young bird for whom adults Tõnn and Tiiu care diligently.
In the other nests with cameras training the offspring to get used to fewer meals has started, in order to tempt the young birds out of their nests. The young black storks disappear from the nest in early morning and stray around in the neighbourhood, close or further off. For the daily feedings they are back in place. Presently they stay nearby for the night, outside the reach of the camera. The romping and catch-as-you-catch-can of the osprey young ones is nicely visible … In the greater spotted eagle nest we have recently observed larger preys being brought to the nest. For instance a young brown hare to get the eaglet used to not only swallowing rodents but also chopping up the prey.
There are constant developments in the nests.