Body
Last week I talked about my butterfly garden, so I thought that this summer I won't mention butterflies any more. There are so many creatures out there just calling to me: Talk about me! Talk about me!
Chicory and buzzards, young common swifts ready for their first flight, and woolly burdocks, whose flower tufts are just so suitable for a "burdock war".
But at Võtikvere book market I was approached by several people talking eagerly about admirals. I must confess, that I don't know that much about them, only that they are migratory butterflies and that they look a little like an admiral's three-corner hat. Dark brown, beautiful wings with proud orange stripes. and white spots on their wing tips.
What else, but to phone the butterfly scientist, who in my opinion knows just about everything about butterflies  -  Urmas Tartes.
Naturally he would suggest, again, that I buy the book "Estonian Day Butterflies" (Eesti päevaliblikad), but actually he wasn't stingy at all sharing his knowledge.
The admiral is a "comfort refugee", migratory butterfly, who will travel thousands of kilometres in search of better living conditions. It will fly as high as 2 km with the help of the wind and will arrive here in May from the shores of the Mediterranean Sea.
In spite of that we didn't see very many admirals this spring, the summer has been favourable to them. The little dark caterpillars, that were chomping away at the nettle leaves have developed into a numerous new generation of butterflies.
We really have so many of them this year; they enjoy the nectar from the flowers, but don't shy away from slices of watermelon left on the table either. Most photos of them have been taken on alkanets and tansies .
But in such dry weather, looking for minerals they may also land on human bodies, so don't be surprised to find a butterfly licking the perspiration on your arm or your toe.
 From Estonia the butterflies will travel to Central Europe, where they hatch another generation before travelling to the Mediterranean countries and then to North Africa, where another two generations will see the daylight.
Urmas pointed out, that this year we are also seeing many silver Ys, a moth or night butterfly, who is also migratory. It is quite hairy, as a moth should be, and has brownish wings with a Y-shaped mark on each. The silver Ys supposedly became famous on an evening in 2016, when a whole swarm of them landed on a soccer field right in the middle of a European Championship game. They fluttered everywhere in the bright lights and a brave one even tasted the tears in Ronaldo's eyes.
Neither admiral nor silver Y cannot stand our winters. So next spring we just have to wait for favourable winds again.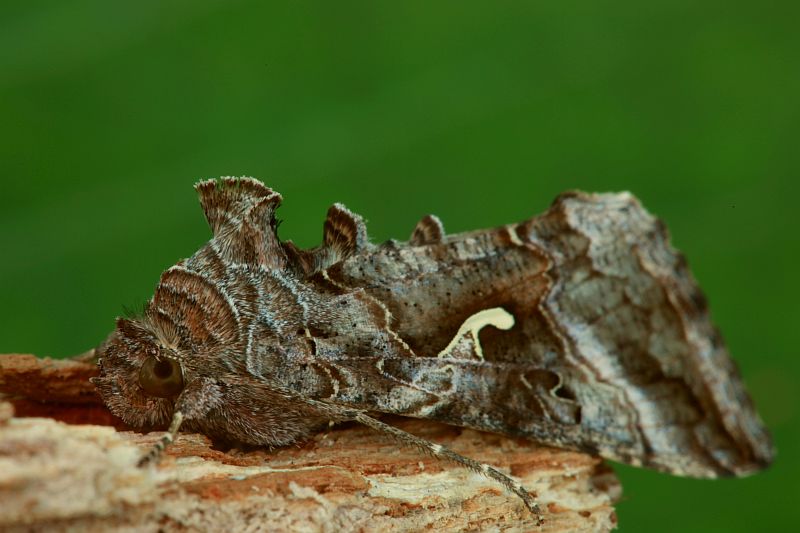 Silver Y
About Silver Y: LINK