Autorid
Information from  Aivar Leito
English translation Liis
Estonian text posted 30.08.2018
Image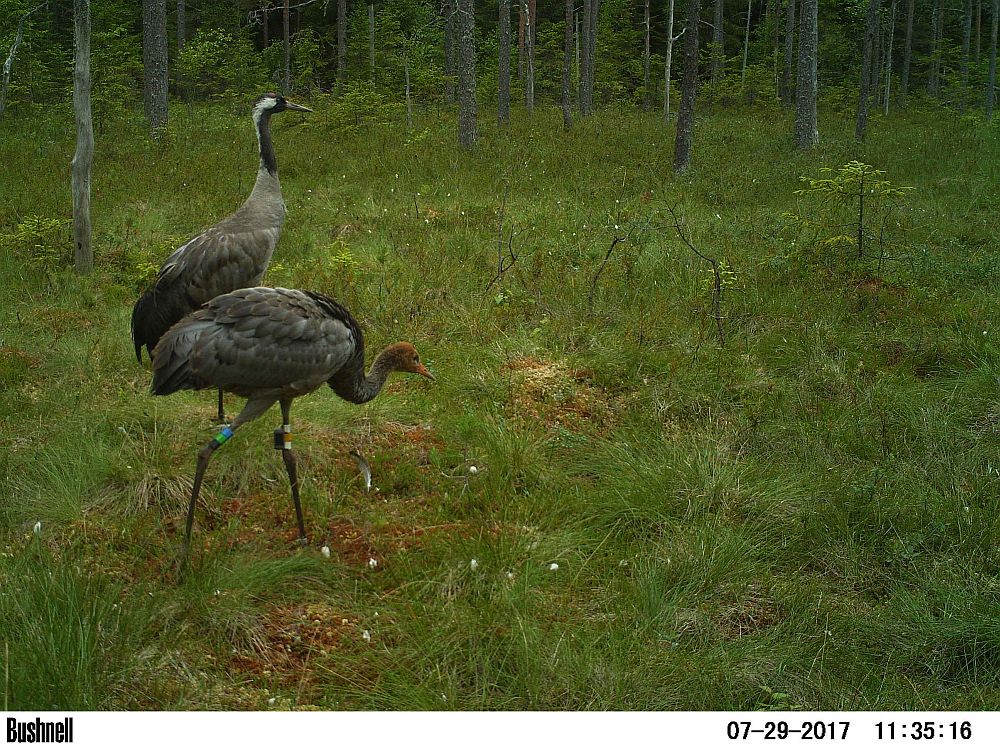 Body
"Hauka 3" in home territory; trail camera image Urmas Sellis
Crane         Sookurg      Grus grus
Dear Crane Friends!
I am happy to tell you that now  the movements of our cranes with transmitters can be seen again in the Bird Migration Map (http://birdmap.5dvision.ee/EE), that is, the autumn migration 2018 season has been opened.
There are two new cranes, from the same clutch,  "Soits 1" and "Soits 2" who were marked in the beginning of June on the eastern shore of lake Soitsjärv near the Elistvere village, only 1 km from my home. It is one of our classical crane marking locations for already over  ten years with the aim of exploring breeding and post-breeding period activities  and room use in feeding, resting and overnight spending and investigation of the landscape structure influence, as well as detailed migration studies.
An additional aim in marking both juveniles in a clutch is to compare their migration paths and possible differences in living modes for which until now information has been practically non-existent.
Very interesting data have already been obtained about cranes "Aivar" and "Uko" from the same clutch, marked last year. Their migration paths diverged already during the first spring migration: "Aivar" stayed for summer far off in Lithuania after having passed home briefly in spring while  "Uko" spent the summer in Jõgeva and TartuCounties near the hatching place.
The other observed cranes mostly spent their first summer near their hatching places. "Hauka-3" spent the greater part of summer farthest from the hatching place (60 - 70 km), in northern Latvia .