Autorid
Text and photos Tiit Hunt, www.rmk.ee
English translation Liis
Estonian text posted 26.09.2018
Body
In a field at the edge of Hosby village in Noarootsi about a hundred grey geese started to land in the calm weather.
The flock, flying  in orderly  flight at a height of 50-60 meters suddenly turned into a chaotic mixed bundle, they could be seen in the air in different and quite comical positions – made one laugh. I have never before noticed such trick flying by geese, it seemed that they did this frankly for their own pleasure. The possible joyous emotions of birds might be expressed just so and should not be underestimated.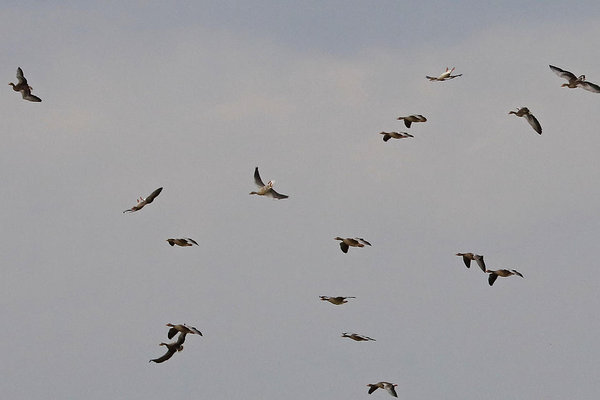 I saw similar manoeuvres by grey geese last week in windy weather at the Haeska beach, in a bird flock of a similar size and flying at a similar height. In a  dense goose flock of  a thousand birds such operations would probably not even be possible without collisions.
From the photos it seems that some individuals even fly upside down but the head is always in a position corresponding to that of a regularly flying bird.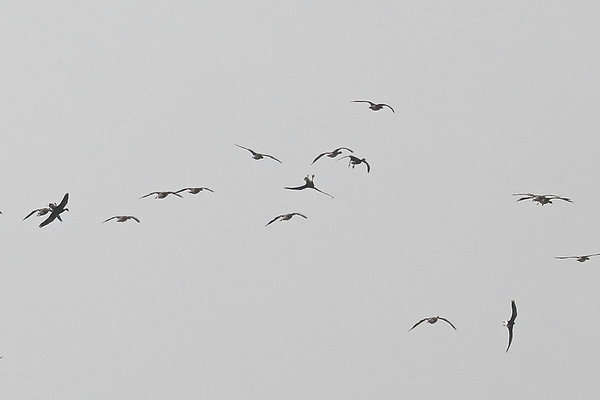 The whirls and turns of the geese in air suggested a parallel to the calibration of the digital compass of  a drone where you have to make a horizontal and  vertical circle holding it in your hand so that the device can determine its location more accurately. Who knows, maybe the geese too  pinpointed their location and were happy that they had reached  this place.
I searched  the opinion of several ornithologists about this trick display of the geese but found that a definite explanation  has still to be found.
The reply to a question, in a forgotten context, comes to mind: why does a crow fly, back downwards? – Just for the sake of it.