Autorid
Screencap from webcam  IceAge, LK forum
English translation Liis
Estonian text posted 09.01.2019
Image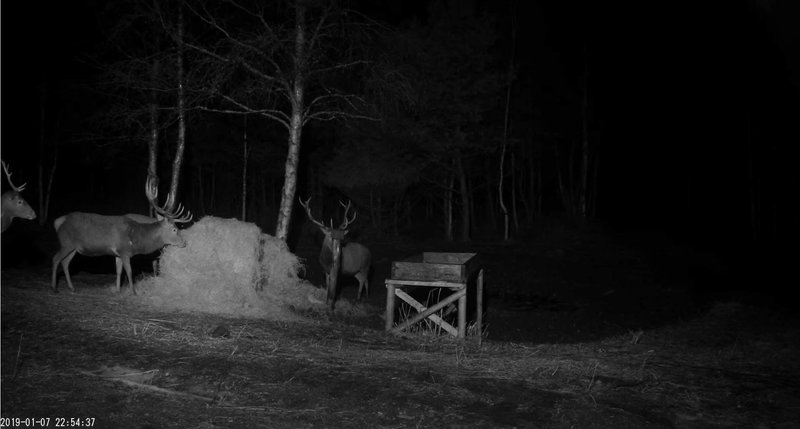 Body
Red deer         Punahirv        Cervus elaphus
Large red deer bulls, or stags, weigh up to a couple of hundred kilos and the body length can reach a couple of metres, shoulder height up to one and a quarter of a metre.
We have not yet seen the females on the feeding ground this season; they have no antlers and their weight reaches only a hundred kilos – so the sexual dimorphism is visually noticeable.
The age of the stags cannot be determined by the number of tines on the antlers since the development of the antlers depends on the feeding conditions.
One antler of a mature and healthy stag can have five or even more tines. At the feeding ground the antlers of the stag called Hubert, carrying the largest set of antlers, were found three years ago in the forest near the feeding ground. It had twelve tines and weighed just under ten kilos. As they age the development of the antlers of the stags declines, around their tenth year of life.
To the start of the antler shedding period the older stags still have a couple of months left.
About the origin and numbers of our red deer and their great number in Saaremaa we have already written. For interested readers the text is here: LINK