Autorid
Screencap from webcam  IceAge, LK forum
Illustrations from Wikipedia
English translation Liis
Estonian text posted 23.01.2019
Image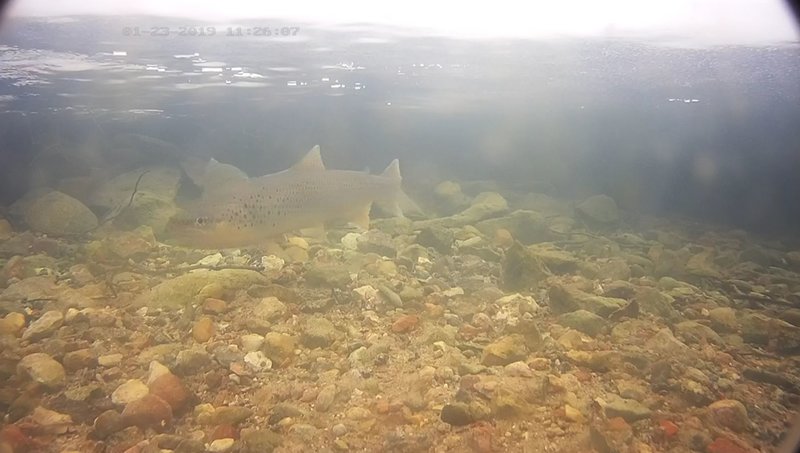 Body
In  the spawning area we meet spawners as well as their "satellites"
Members of the LK forum have been interested in what small animals we can see in action in such waters. The information below is provided by Henn Timm from the Estonian University of Life Sciences:
"In the upper reaches of rivers and streams where the flow is rapid and the water is cold there is almost no plankton. The zoobenthos (the animal fauna of the bottom) is dominated by crenobiotic species (invertebrate aquatic organisms living in cold spring waters), for instance unicellular species, crustaceans, insect larvae, leeches, snails … Typical fish species are river trouts and graylings ".
According to Henn Timm the macro-invertebrates in the Voore brook have been investigated in 1993-2000 altogether on eight occasions and in three areas: Sae village (11 km from the source), Rakvere – Tudu road (13 km) and Lavi village (19 km). 43 taxa were found.
The freshwater crustacean Gammarus pulex was most frequently encountered :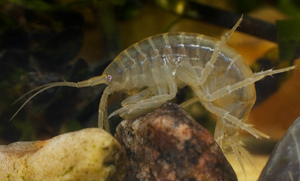 Freshwater shrimp     
Gammarus; Freshwater shrimp      Jõe-kirpvähk        Gammarus pulex
 The length of adult male Gammarus may be up to a couple of centimetres; the females are half a centimetre smaller. They have seven pairs of legs and two pairs of antennae. The first two pairs of legs are gripping feet, so called gnathopods, ending with claws with which the gammarus grips its prey.
Colour whitish yellow to greyish green. In the resting position they are curled up while when moving in the water they swim or jump.
They mainly feed on leaves fallen into the water.
The freshwater shrimp are fertile and may reproduce twice a year. They are an important source of food for trout.
They prefer flowing oxygen-rich  and calcareous waters, being an indicator species of the state of the water body similar to the river limpet snail (Ancylus fluviatilis).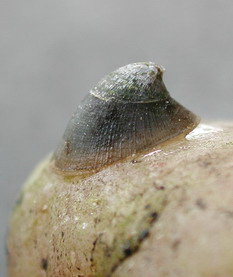 River limpet    
River limpet      Napptigu       Ancylus fluviatilis
The shell of the river limpet is oval, 5x6 mm,  not twisted. The shell surface may be slightly pitted and the tip slightly hooked, coloured from yellowish-brown to dark grey.
It generally lives in habitats with streaming pure water, attached to rocks and feeding on plankton.
Mayflies  (Baetis sp),  caddisflies (Silo pallipes,  Rhyacophila fasciata) and non-biting midges (Chironomidae) can also be noted .
Caddisfly larvae have often been noted moving in camera view. As protection against predators the larvae build portable  mostly tube-shaped cases or houses from grains of sand and small pieces of plant detritus. Some creep into burrows.