Autorid
Screencap from webcam Toivo
Estonian text posted 23.04.2019
English translation Liis
Image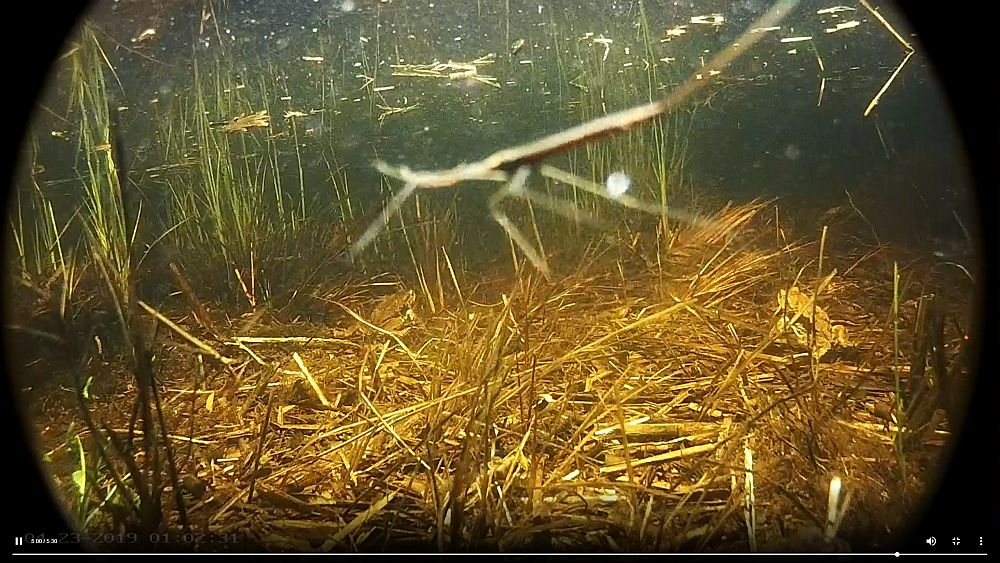 Body
Water stick insect         Nõelhark       Ranatra linearis
This creature belongs to the Nepidae or Water scorpion insects, and appeared yesterday in camera view in the Võrtsjärv water meadow.
Those who move in mainland water bodies are probably more familiar with the water scorpion  Nepa cinerea with its leaf-like body. The stick water insect (see images) is seen less often .
The water-living predatory water stick insect usually lies in wait for its prey and uses the foremost pair of long legs to grip small insects living in the water.
The thin dirty-yellow body of the water stick insect may be three centimetres or even a little longer and a flexible air tube, a couple of centimetres long, is added to the body length. Through it the insect breathes air so that it does not need to bring its whole body to the water surface. With a total length of about six centimetres it belongs to Europe's largest Water Scorpion insects.
In addition the water stick insects also have wings for flying.