Autorid
Text and illustrations  Tiit Hunt, www.rmk.ee
Estonian text posted 26.04.2019
English translation Liis
Body
Weatherfish         Vingerjas      Misgurnus fossilis
A weatherfish turned up in the fish camera in Võrtsjärv. There are certainly those who have not even heard of this protected fish species, so it may be a good time to be introduced to this fish as it starts its spawning. An interesting creature that was earlier kept in water containers to predict the weather .
The body of the weatherfish is eel-like, the rear part flattened from the sides. It has five pairs of barbels at the mouth. Compared to its relatives Cobitidae or loaches  (spined loach, stone loach) the weatherfish is the largest and grows slightly faster. At 10 years weatherfish are 27-29 cm long and weigh 115-150 g. The female fish grow faster than the males from the fourth year of age .

The distribution area is not large, being limited to Central and Eastern Europe. In Estonia the weatherfish is at the northern limit of its range. In the standing waters of the Peipsi water basin, particularly the old riverbeds of Emajõgi in the Alam-Pedja area, the Narva river Strugas and locally also in the shore bays of Emajõgi, Elva River  Pedja River and in places also the Peipus shore are very good habitats for the weatherfish. It occurs in all  Alam-Pedja old riverbeds and locally also in the Emajõgi, Elva jõgi and Pedja jõgi shore bays. The weatherfish also occurs in the Kasari river. 

The habitats of the fish are mainly shore areas with standing or slowly flowing water and densely overgrown shore areas with muddy bottoms. The weatherfish avoids areas with hard and sandy bottoms where it is not possible to dig down into the bottom for protection. It mainly keeps to the bottoms of water bodies .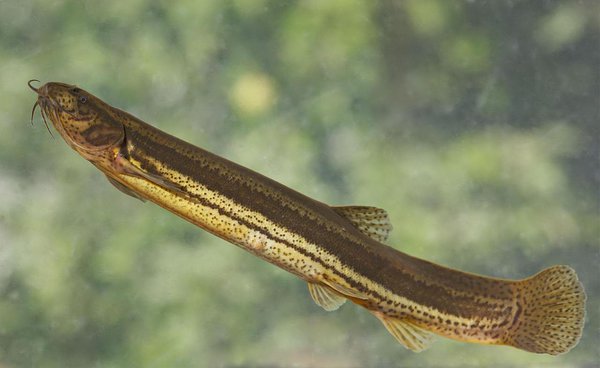 The weatherfish tolerates oxygen deficiency very well. The tolerance is increased by the rear end of an  intestine tube  working as an additional breathing organ. When the weatherfish lacks oxygen at the bottom of a water body it rises to the water surface, swallows air and presses it on via the intestine tube. Used air is let out as bubbles through the anal opening. On land the weatherfish makes a piping noise on letting out the air. If the water body dries out in summer or the winter is severe they may dig deeper down into the bottom mud..

The weatherfish spawns from the end of April to June – it starts spawning just now. The brownish roe grains are laid in shallow water on last year's decaying vegetation.