Body
Bird's eye primrose   Pääsusilm  Primula farinosa
The humid habitats of the bird's-eye primroses should preferably have a soil that is rich in lime. We will find these beautiful flowers in all Estonia, and not only in meadows, but irregularly distributed.
Breathtakingly beautiful sites may be found on the north-western coast of the mainland and on the islands where bird's-eye primroses are in almost full flower.
The wonderful flowers of the bird's -eye primrose cannot be mistaken for those of any other plant. In one cluster there may be up to ten of them. In addition, the inflorescence as well as the undersides of the leaves are covered with a whitish-yellow farinous layer. A flower well worth learning to know.
The smell of the bird'e-eye primrose is very likeable for some, others it reminds of horse urine. There is no accounting for tastes as is well known.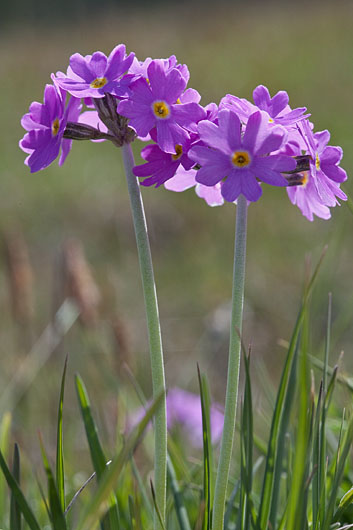 Bird's eye primroses