Autorid
Screencap from webcam  Mary Jane, LK forum
Estonian text posted 05.07.2019
Image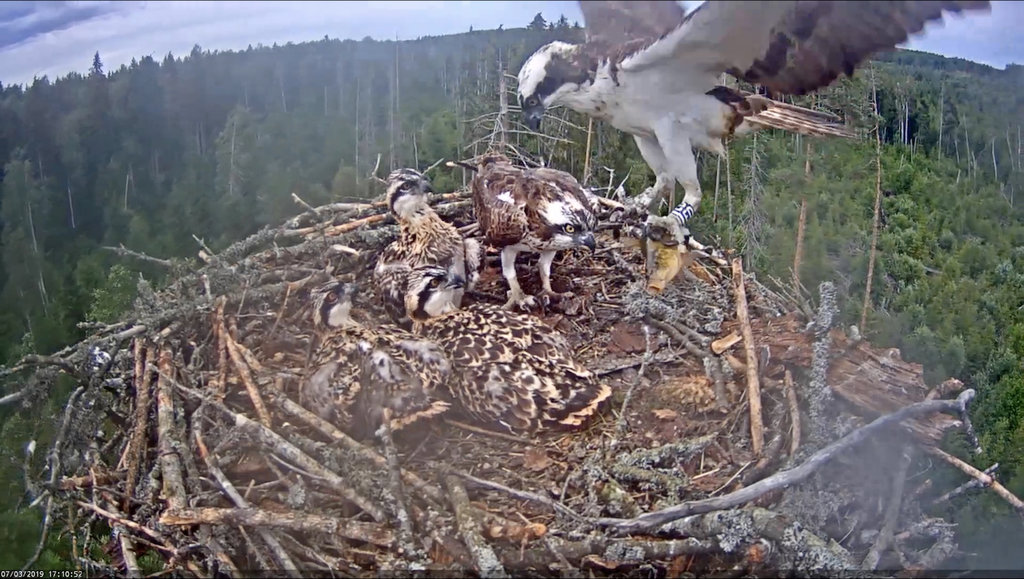 Body
Photo of the whole osprey family…
Osprey          Kalakotkas       Pandion haliaetus 

 
The image from Osprey camera 2 disappeared the day before yesterday during the heavy rain. Hopefully the equipment will be restored within a few days
The chicks, hatched on June 4, 5 and 7, will be one month old today calculating with an average of the hatching dates.
Adults Iiris and Ivo take good care of the family, in this nest the food table is well set. Both adults go fishing:  male Ivo brought six fish to the nest even in quite bad weather and mostly in the first half of the day while  female Iiris brought two fish towards evening.
There is no doubt that male Ivo after having been fishing during the whole nesting period knows the surroundings and the movements of the prey better – after all a pro is a pro. Female Iiris is adapting but of course she also has to restore her own body resources after the egg-laying and incubation since autumn migration is not far off any longer.
(Note: Camera back online on July 7)