Body
Labrador tea     Sookail        Ledum palustre
Where the Labrador tea grows there is usually a lot of it – be it a bog or forest where the humidity is sufficient for this beautiful flowerer.
The flowers, in umbels, are set in the tips of the numerous branches of the evergreen semi-shrub that grows up to a metre high. Some twenty to thirty flowers are gathered in the inflorescences and they are very rich in nectar. The truly long-lasting flowering period starts already in May and goes on until July.
During the peak period of flowering the whole bog forest seems lighter even in the evening dusk. The pungent smell in the forest is caused by the ledol-containing volatile oils.
Reddish glandular hairs cover the whole plant, shoots as well as leaves. The small leathery leaves have involute margins.
It is not sensible to put up one's tent near a Labrador tea area - a heavy headache may be the result for most people, sensitive persons may even become unconscious. Thus a plant that we should all know.
.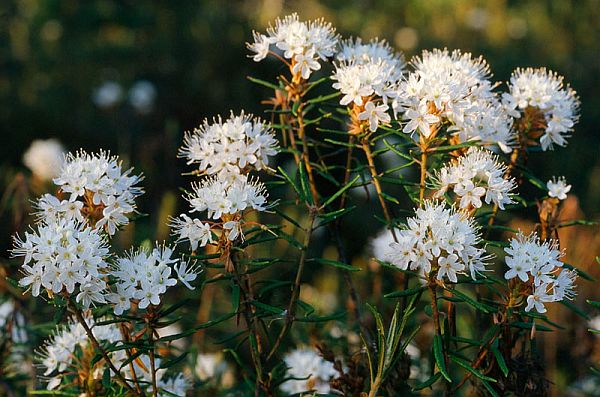 Labrador tea