Body
Valerian; All-heal     Harilik palderjan      Valeriana officinalis
Summer has come so far that the valerian flowers, or is about to flower in North Estonia. Herbalists have used the herb already for thousands of years until today.
Does the valerian flowering in the meadows remind of the Umbelliferae family plants? It is a perennial, in the honeysuckle family and related to madders (Rubiaceae).
The large inflorescences, cymes, are adorned with funnel-shaped pinkish flowers, a little different from others in the family that do not have such long umbels.
Valerian can grow up to a metre tall depending on the habitat – in dry wooded meadows the plants remain shorter, in wet alluvial meadows more luscious, so it also looks variable. The slender leaves of the plant are pinnate, consisting of up to 11 leaflets; the tip leaflet is always smaller than the others..
Identification cannot go wrong if the plant is pulled up with its roots, then the valerian smell familiar to all is felt.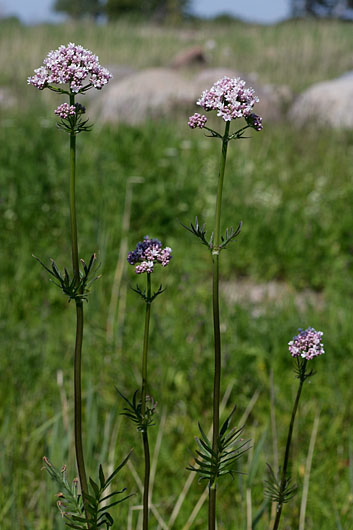 Valerian