Body
Wood cow-wheat    Harilik härghein        Melampyrum nemorosum
The cow-wheat adds a many-coloured look to the Midsummer garland of nine flowers everywhere.
As its habitats we note the verges of forest roads or wooded meadows; the mass flowering of the bright yellow cow-wheats however comes in July.
It is often asked if the cow-wheat does not have purple flowers?
The upper leaves, or bracts, of the wood cow-wheat are purple. They are placed in the inflorescence at the tip of the stem. The bright yellow flowers are concealed by the bracts. The purpose of the bracts is the same as that of the petals of other flowering plants – to make the plant more "beautiful"  and visible to pollinators.
It should also be known about the cow-wheat that we have to do with a semiparasite.
The small roots of the plant are poorly developed but there are efficient appendages on the roots that are fastened on to the roots of of larger and stronger trees and shrubs to get the necessary nutrients needed for development.
The mighty root system of the host plants will not bother about this small and temporary "theft". It is worth noticing that the habitats of the cow-wheat mostly are near trees.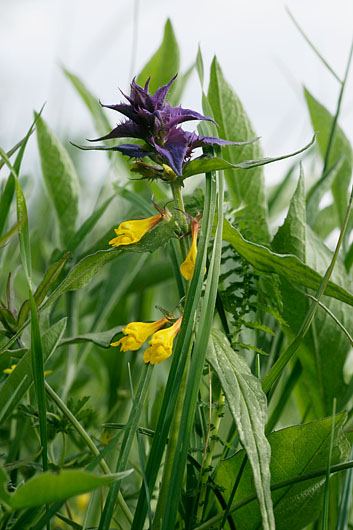 Wood cow-wheat