Body
Striped shield bug; Minstrel bug; Italian striped bug Triiplutikas      Graphosoma lineatum
No one who encounters the striped shield bug can have any doubt about its identity.
The bug is up to 1 ½ centimetres long, with a flat, wide body and no one else wears such a striped "Vatican Swiss Guards uniform".
The bright exterior announces to observers "I taste terrible and it is not worthwhile to touch me". Thus they move around quite openly and anyone who is interested can observe the doings of the bug easily. Striped bugs like the parsley family (Apiaceaea) family plants where they suck plant sap  – a particular favourite is the wild carrot.
The striped shield bug is not a plant pest; rather, it enriches our nature with its cheerful colours.
In summer it sets the foundations for the next generation. From the eggs laid on leaves larva hatch within a few weeks but their "uniform" is not immediately so brightly striped.
The young striped shield bugs will not wear the gala uniform until the end of summer. In autumn they go to spend the winter as imagos.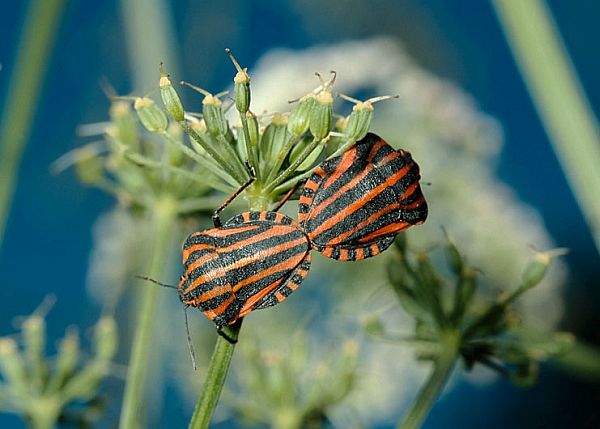 Striped shield bugs mating