Body
Meadowsweet     Harilik angervaks       Filipendula ulmaria
Sometimes we come across "meadowsweet forests" growing in the moist soil at the banks of rivers, brooks and lakes. They may be the height of a "small man", one and a half metres, and can be a thicket that is quite difficult to get across.
The overwhelming density of plants occurs in suitably moist soils, and the several propagation modes of meadowsweet (a mighty rhizome, numerous seeds) fend off other plants from the area. In sites with less moisture it will not be quite as powerful.
The whitish-cream fields of meadowsweet are not just passed by. The individual flowers are only centimetre-sized but the inflorescences themselves are several tens of centimetres long making the habitat amazingly beautiful. The strong, interesting and pleasant smell reminds of almond aroma, with a little cinnamon – but some sensitive people may get a headache by the interesting scents.
The lower parts of the stems, hidden by the leaves, are woody and the whole stem is covered by rough veins.
Cattle do not eat meadowsweet but for insects flowering meadowsweet is irresistible.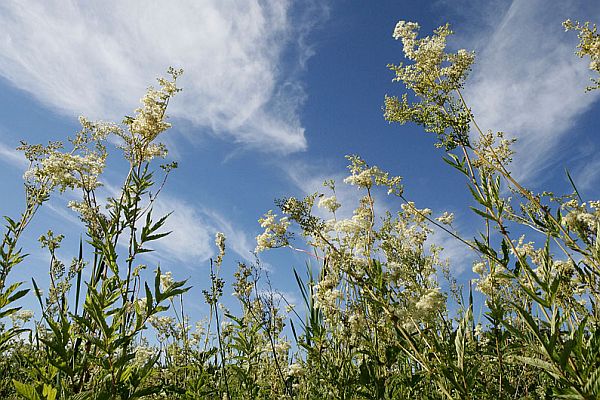 Meadowsweet meadow