Autorid
Science news from the Year of the Great Tit edited by Marko Mägi, marko.magi@ut.ee bird ecology scientist at the University of Tartu
Translation Liis
Body
Published in Estonian 17,01.2017
The more mobile the birds are, the smaller is their local genetic divergence, because in moving the genes also "migrate" along and carry on into the next generation. So differences between populations should disappear with time. This theory however presupposes that organisms can move freely without obstacles (e g mountain ranges, large water areas etc). A constant supply of "foreign" genes may moreover hinder the adaption of populations to local conditions since the local environmental factors have not yet made an impression on the genes that are added from "outside". Such a constant migration of genes between populations may prevent the development of new species which in contrast increases in isolation. Hints on the  effects of isolation of individuals and the possible separation of species may be found if the genetic diversity is known across the whole distribution area of a species..
Great tits can move thousands of kilometres on migration, and their populations are not isolated from each other within the borders of Europe. All great tits living in Europe look very similar but is the genetic background of the individuals likewise similar? To find an answer to this, genetic material from great tits was collected from 30 different populations from Portugal to Finland (among those also from Estonia, from great tits in the research area of the bird ecologists of the University of Tartu in the  Kilingi-Nõmme forests).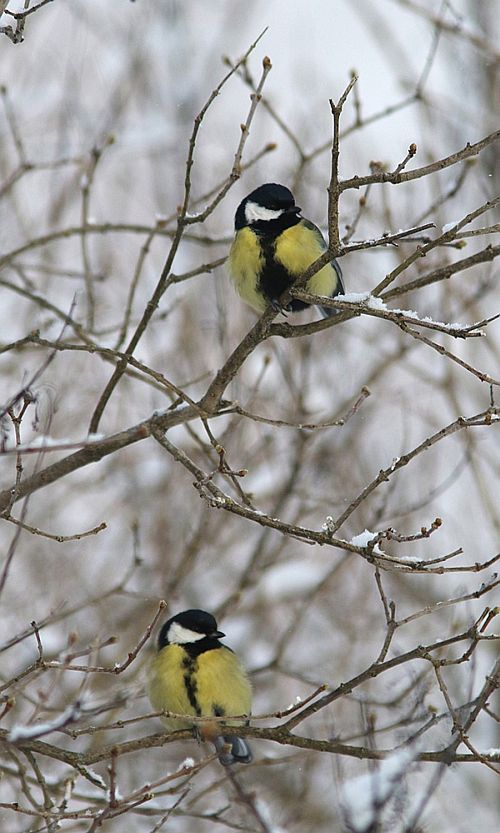 Great tits: top, male, below female / photo: Uku Paal
The results showed that despite the general genetic similarities there were notable differences between the different great tit populations. For instance the great tits of south-eastern Europe differ more clearly from the others, having a smaller genetic variation. Such a difference from the other populations in the European regions may develop from the lack of winter conditions: in the northern areas winter forces birds to move, and as a result their genetic material will be mixed to a greater extent.
Summing up it may be said that genetically great tits constitute a homogenous population where the regional populations are similar independent of their geographical location and where the mixing of genes is influenced by winter conditions that force the birds to migrate. On the basis of this knowledge it may be speculated how climatic change would influence the genetic diversity of a species and the evolution of differing populations – if winters turn warmer and the birds become more stationary, greater changes may also be expected in the genetic material of the populations.
Lemoine M et al. (2016) Low but contrasting neutral genetic differentiation shaped by winter temperature in European great tits. Biological Journal of the Linnean Society 118:668-685. DOI:10.1111/bij.12745