Autorid
Text and photos  Tiit Hunt, www.rmk.ee
English translation Liis
Estonian text posted 23.08
Body
Now that the summer heat is giving over to more timely early autumn  winds and rain showers it is the best time to go out and pick these berries ripened to blackish-blue in the sun on field and hiking path verges.
The dewberry  (Rubus caesius) looks like a black or dark blue berry similar to a raspberry, with a greyish waxy coat, but it is not really a berry – the fruits of the dewberry, cloudberry as well as raspberry are aggregate drupes where each individual little grain or drupelet contains a small stone similar to that in a cherry or plum.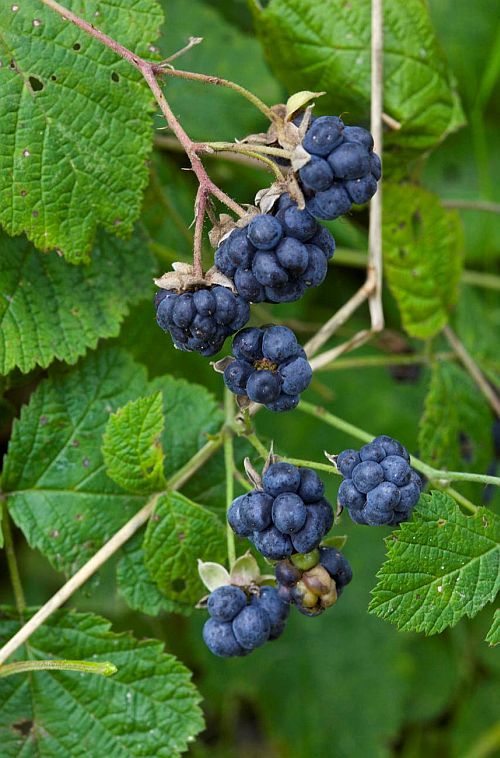 In Estonia the dewberry is  widely spread only in the western part where in some favourable calcareous habitats it may grow in impenetrable and prickly entwined lengths. Almost all of the 50 cm to 1,5 m high plant is generously provided with thorns that are quite unpleasant to the picker.  
Growing in a shaded habitat the dewberry can also grow upright like a raspberry; in Lääne county this can be seen for instance on specimens growing at the Saunja or Saare hiking paths but usually the plants meander near the ground where they develop roots at the tips. When an unsuspecting picker's leg comes into such a snare the dewberry will become a trip-wire. 
Generally the dewberry is very good for eating, although in our culture it has never been as highly regarded as others from the Rubus genus: but in south Europe dewberry preservers are highly valued.
I have no idea why the raspberry and cloudberry has been more esteemed than the black dewberry, the reason may be in the more acid taste of the dewberry, the bothersome picking or the scarce distribution.
In fact the dewberry is very valuable culinary raw material:  on being prepared at higher temperatures it reveals its best taste properties. The dewberry also contains many macro and micro elements such as potassium, magnesium, sodium, calcium, iron, phosphorus, nickel, copper etc, organic acids, vitamins A, C, P, E, B2, B1, natural antibiotics, fibres and amino acids.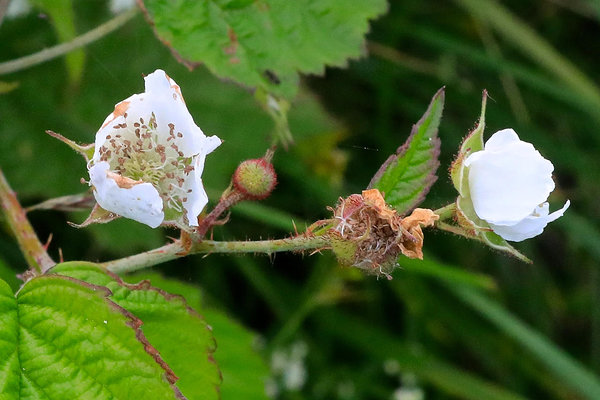 All parts of the dewberry are recognized for use as a medical herb  – leaves and flowers on young shoots, the roots, the fresh, dried or preserved fruits. In our climate the generously vitamin- and mineral-containing plant has been used internally mainly in cures for various colds and gastro-enterological illnesses and externally for treating skin problems.  
Nothing more to add after this than to get the berries into your berrypicking bucket!